Adoption Reunion and Resistance to Change
I am all about therapy, hence this series, Heart-to-Heart with a Therapist.
(Yeeeeessss, Laura, we know, we know … you had your own trip to crazy town and back, which is exactly what makes it okay for you to joke about it and call something so serious "crazy town," and to give insight as to recovery and sane living.)
I love trying to understand the why and the how of human behavior. I also love how much I learn from others–especially such insightful, smart therapists as Betsy Graziani Fasbinder on H-to-H #1 and, now (drum roll please) … Corie Skolnick. <<<excited applause>>>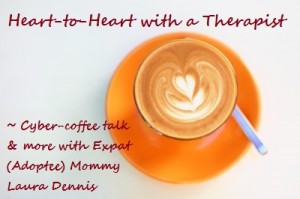 I cyber-met Corie through The Lost Daughters and her existential fable, ORFAN. She's seen plenty of post-adoption issues in her therapy practice and through her lecturing gigs. Since Deanna Doss Shrodes and I were recently chatting about our frustration with adoption fog, and how badly we want to s-h-a-k-e it out of people … I thought it was high time to bring in a professional. Before any restraining orders are filed.
Laura – Why are people so resistant to reunion?
Corie – Thanks so much for inviting me back to your blog. I love Expat (Adoptee) Mommy!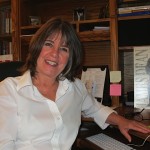 So, resistance to reunion… This one might get some blowback, Laura. It's a tough subject for some.
I can tell you what I've witnessed as a clinician, and I can tell you what my suppositions are, but, remember, only the individual in question can tell you themselves why they are "resistant to reunion," and many will not care to even ponder the notion of reunion let alone analyze their resistance to it. But, you know I'm always willing to give you my two cents on whatever subject. Readers, please be forewarned: nobody is saying that THIS describes you or your experience. This is just me and the EAM having a cup of tea and a little chit-chat. (I am having a cup of tea; I hope you are, too.)
Resistance to change of any kind
Laura – Coffee. Must. have. coffee. But that's close enough, right? Okay, tell me more about resistance.
Corie – First let me say that human beings for the most part are resistant to change… of any kind.
Physiologically, as living organisms we are programmed to survive, and at the biological level, changing anything about our experience, even seemingly insignificant things, can be somewhat taxing – organically speaking.
Medical science has demonstrated that change is stressful. This is true for both kinds of changes, positive and negative. When things change, no matter the valence, we go on high alert. Our bodies react significantly by amping up the production of hormones that will give us an edge if we need to flee danger or fight off an attacker (or perceived attacker) or perform some function that isn't ordinary for us. Those chemicals are fabulous in the short-term, but, destructive at the organic level over prolonged or repeated exposure.
So, it's easy to see why, at this mindless, unconscious level, we will see the organism avoid change. Less change equals less stress. Our primitive wiring in effect makes us seek out the status quo. That kind of resistance is physiological and adaptive and utterly pre-conscious.
Laura – Thanks, Corie. This is actually very helpful insight for me, because when I look at it this way, I can see that some people are more adaptable, they are more able handle change in general.
So, for an adopted person who resists reunion, they may be change-adverse in other areas of their lives, as well. It may be a symptom to a general reluctance to create change anywhere, not necessarily only when it comes to adoption.
*  *  *  *  *
How does this resistance to change relate to adoption fog? Join me tomorrow, as Corie and I continue our talk about adoption fog and resistance to change. Corie's amazing book, ORFAN is available on Amazon.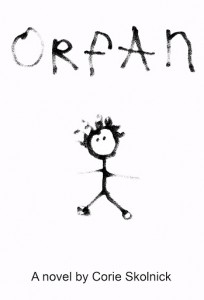 About Corie Skolnick – Born in Oak Park, Illinois, and raised on Chicago's south side, Corie Skolnick has lived her entire adult life in Southern California. She is a California licensed marriage and family therapist and a "sometimes" psychology instructor at California State University, Northridge and Moorpark College. Among the many courses she has taught at both colleges, her very favorite is The Psychological Aspects of Parenthood. She has two grown children, both of them in the arts, and she is married to the social psychologist, Paul Skolnick. ORFAN is her first novel. (Look for AMERICA'S MOST ELIGIBLE to be published by Mannequin Vanity Publishing next year!)
Coffee image by bplanet from freedigitalphotos.net