Heart-to-Heart with a Therapist #1: Helping a Loved One with Bipolar
When a gal gets the opportunity to pick the brain of an insightful, forward-thinking therapist? … Well, the possiblities are endless!
Here's the 1st installment of "Heart-to-Heart with a Therapist."** You can see past interviews with Betsy Graziani Fasbinder, at Catholic Shame, Secrets & Lies and Breaking the Cycle of Secrets. Today, we're discussing manic episodes, and Betsy's portrayal of bipolar disorder (BPD) in her lyric novel, Fire & Water.
Encountering mania
Laura – One of the most confusing things for your heroine, Kate Murphy, in Fire & Water is encountering her boyfriend, Jake Bloom, in an excited, delusional manic state. Beyond what she thought was "mere" creative genius, Jake has an episode and Kate is at a loss to help him.
This was also true for my family, who simply believed me to be hard-working, perhaps not need of a lot of sleep. Even when I believed I had met the head of the Illuminati, Mr. Gray, and later interrogated my mother–accusing her of being an imposter, my family still wanted to give me the benefit-of-the-doubt. My mom even went to the restaurant where I believed I'd met Mr. Gray and tried to corroborate my story.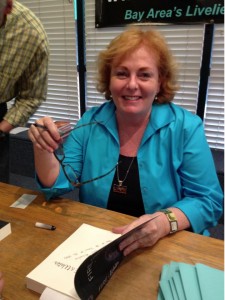 Betsy – It sounds as though you and your family have struggled in much the way I've witnessed, Laura. In my clinical practice (I've been a therapist for more than 20 years) I have more often worked with the family members of individuals who have Bipolar Disorder (BPD). The first thing I do with them is empathize with just how baffling and unsettling this particular disorder is when someone you love has BPD.
People feel stupid (particularly the romantic partners of those with BPD). "How did I miss this?" They feel frustrated, "But he was misdiagnosed a dozen times." They feel exhausted, "I just don't know if I can take this anymore."
They feel terrified of what their loved one might do. "Could she kill herself? Or someone else?"
I'm not up on the most recent studies, but from my graduate studies I recall studies about the genetic and environmental components to BPD. Knowing this makes little difference, except to help people be more aware of the possibility of BPD in other family members which can help with accurate diagnosis and treatment.
It must also be said that if you've had a relationship with someone for a long time, and they've not had a major break in your presence, that their manic delusions can be quite convincing. These don't immediately sound like delusions at all, and the person who is having them is so passionately convinced that one can't easily dismiss them. This sounds like what your mom might have gone through, Laura. Or she felt she needed to go as a support to you, though she may have known in her bones it was a delusion. It might be worth talking to her some time and seeing what her motivation was.
Love, tragedy and mental illness
Laura – Fire & Water is a tragic love story. An artistic genius, Jake Bloom is fantastically flawed, but loves so deeply and so thoroughly, he inspires those around him to be better. Can you explain a little why you chose to portray bipolar disorder this way?
Betsy – I thought it was really important to portray Jake as a whole person, not just a person with a mental illness. And I also wanted to portray that someone with a mental illness is not necessarily a "bad" person.
He loves his wife with devotion and passion. He's an attentive, loving father. He's a beloved and loyal friend. For Jake, the same sensitivities that make him an artist (and indeed a genius, of sorts) also makes him especially tuned into the people he cares about. He sees them, knows them, loves them intensely.
Kate falls too fast and too hard for Jake, but not just because she's a fool, or he's a handsome guy, or even that he's an artist. She falls for him because of his ability to know and understand her deeply; for insatiable curiosity about life and her.
This is an ultimate love potion, isn't it; to be deeply understood and passionately loved by the one we love?
*  *  *  *  *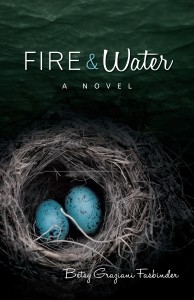 About Betsy – In both her works of memoir and fiction, Betsy Graziani Fasbinder explores the unending complications of people living, working, and loving one another. As a practicing therapist for more than twenty years, she has been witness to the heartbreak, healing, and heroism of people from all walks of life. Fire & Water, available on Amazon, is her debut novel published by She Writes Press. Connect with her on Twitter @WriterBGF.
In our next installment, Betsy and I will discuss
What advice can you give to family members to help spot when creativity and high energy turn into hypomania and mania
Is bipolar disorder 

all

genetic?
Are creative people more prone to bipolar, or vice versa?
** None of this conversation constitutes actual therapy. Please consult your very own mental health specialist.
Image from freedigitalphotos.net