Only in Serbia
"You don't make any sense. You completely contradict yourself all the time."
Good stuff. This sentiment insult I recently received pretty much encapsulates how I live my life. Most of the time. Maybe. … Why can't I just make up my damn mind?
I call myself a patriotic American, but in A Friendly Letter from Home, I made fun of Big Brother the uppity American Embassy for constantly warning me about perceived dangers to my American health, safety and well-being.
I make fun of the Serb fear of promaja and the new trash bins around town, but I love the relaxed Don't Freak Out mentality towards raising children.
So … whose side am I on? Why can't I just pick a perspective, decide who or what I'm making fun of, and stick with it.
I don't quite know what to call it. It's not that "I call it like I see it." I do have enough emotional intelligence not to blurt out the first thing that comes to mind.
Maybe I ought to change the title of my blog to
The Sarcastic Contrarian, or
The Genuine Hypocrite, or
The Inconsistent Witch-with-a-B.
You see, I like living here, but … it's complicated.
And lest you think I've completely adjusted to living in Serbia and don't notice stuff as an outsider any more, think again.
I'm sure I'm completely overreacting, and that all of this is perfectly f-i-n-e.
But I can't resist. I have to point it out. Below is a photo of a new store that opened near our local elementary school.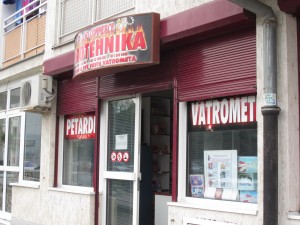 You can't quite see the main sign but suffice-it-to-say, it advertises: Pirotehnika. Hence the little flames surrounding the text.
Yep, it's a close cognate, as in … pyrotechnics. And the word vatromet? I know, not a cognate. Vatromet means fireworks.
Also note the various signs warning: no smoking, no lit matches, no fires. Not that I haven't seen the store owner smoking a cigarette right in front of the sign.
For me, no smoking, no lit matches, and no fires … are always good advice for storefronts. But then again, I am an uppity American mommy. It's also good advice for a building next to a large elementary school.
What's the big deal, you may wonder? If fireworks are legal, then why not have a store to sell them in? At least it's safer than having fireworks sold on the street.
True, very true.
But let me zoom out a little.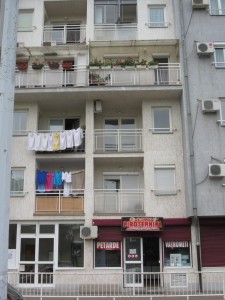 A little bit more …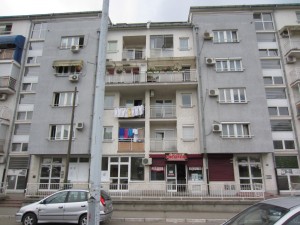 Have you been able to guess yet what's wrong with this picture? Literally wrong, as in unsafe and hazardous?
Oh oh me! <<<pumps arm into the air>>> Pick me, I know!
Ah yes, the fireworks store is located in … Ding, ding, ding! You guessed it!
An apartment building! Where people live. They l-i-v-e there.
[Rant over.]
That is all.
*  *  *  *  *
If you wanna read some more contradictory, confusing stuff (and who doesn't really?), check out my "spy thriller" cum memoir. It's on sale this week for $2.99 over at Amazon.
If you've already read it and overcame your confusion somewhat … thank you! (Please … if you have a moment … click over and write a review about Adopted Reality on Amazon!)