Only in Serbia–Beware When Parking Your Car
Just curious …
Under what circumstances would it occur to you to physically relocate a vehicle that is impeding the progress of your own car?
I know, right? Not something I've sat around thinking about over coffee, either.
Only in Serbia.
The other day I came upon the following situation with regards to my black GMC: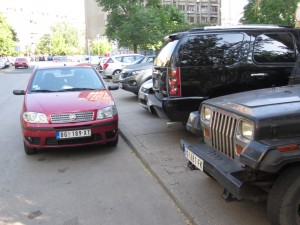 What would you do?
Me, I honk. (how rude)
No response. Cue more Americanness: I honk again.
From the 2nd floor balcony across the street, some grandpa yells: That's not my car, why are you honking? [approximate translation]
What I want to say: There's a car parked in front of mine. What would you prefer for me to do?
*** What I actually say: Imam neki kola ispod moja kola. Šta zeliš ja radim?
Translated-for-your-enternainment: I have a car under my car. What would you like me to do?
Grandpa-yelling-from-the-balcony: I don't know. But this honking is too loud. [again, not a direct translation]
What I want to respond: That's the point. I would like to move my car and go home, but this car is blocking me. <<< Gesturing to self, and broad gestures to the offending car. >>>
*** What I say in Serbian: Da, jeste, naravno. Ja ću idem kući, ali ne mogu.
Translation: Yes, that is true, of course. I will go home, but I can not.
[Repeat silly exchange with grandpa four more times.]
Eventually, a couple comes to my rescue quietly explains that I simply need to move the car.
What I try to ask: Move the car? Surely I don't understand.
*** What I say: Meni? Ne razumem. Ti ćeš ja da gura ovo kolima? <<< pointing to myself and then demonstrating a pushing gesture, incredulous facial expresssion >>>
What this means (channeling my Serbian-Yoda): Me? I don't understand. You're going to push me this car?
<<< Couple, nodding, gestures to push the hatchback. >>> Note: couple explicitly does not approach to help me relocate said vehicle.
And so I stand there in my skirt (and heels!), dumb-founded, thinking … Well. That just happened. Yep. Only in Serbia.
What do I have to lose? Maybe it is okay to manipulate someone else's property … for my own purposes.
So …….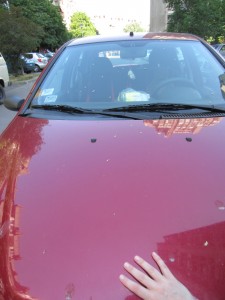 I push the damn car out of the way. I feel like Superman Superwoman. I'm pushing a car! I'm pushing a car! I'm pushing a CAAAARRR!
I. had. never. heard. about. this. before. It's not something that I've ever seen people do in my parking lot, maybe because of the inclines/declines and potential, oh I-don't-know … crashing issues.
Turns out, people who park in the way will "simply" leave their car in neutral, making it super-easy to roll it in front of another unsuspecting stranger.
Or, I should say suspecting stranger. Because this, apparently, IS a thing here. Who knew?