Death by Suicide–What we all can learn about overcoming grief
Leaving the Hall Light On chronicles Madeline Tasky Sharples' journey to find peace following the suicide of her son after his years long struggle with bipolar.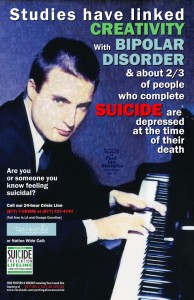 In recent weeks, Madeline and I have discussed early indicators for bipolar disorder and thoughts on keeping mania in check. I've been curious as to how she overcame her grief–without prescription drug abuse, drowning her sorry in alcohol, or ending up destroying her marriage. Today the memoirist opens up about these and other aspects of her grieving process.
Welcome Madeline!
Laura — I was very much enthralled with your description of your personal grieving process, how you naturally gravitated toward fully experiencing the horrific loss of your son, without going into denial or relying too heavily on coping mechanisms.
Even as you were "pretending" to live–go out, work, exercise, socialize, you allowed yourself time to cry and feel sad. But over time, that pretending reminded you that you have so many things to live for, and that you could enjoy your life and remember Paul.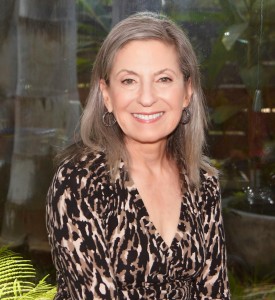 Madeline – My coping mechanisms were my working out, working, and writing. It's as simple as that.
And now after almost fourteen years since Paul's death I'm still using them – almost to the point of obsession. But they keep me sane and grounded. They keep me whole. Yet they don't stop me from still having guilt and regrets, missing him, wondering what I could have done to save him.
Laura — Another aspect of your healing process was that you ended up doing it without support groups, without therapy and without religion.
But surprisingly, one tangible thing that seemed to provide some solace was the small, smooth stone with the word "son" etched into it. I've written before about grounding tools–small objects that can be used to keep a person from detaching and dissociating.
For you, what purpose did this stone serve?
Madeline – I think it was just the holding on to it. It fit perfectly in my hand. and I could have it with me whenever I needed it. I needed it the most at night – I'd find it tight in my fist when I woke up. This was something Paul had never seen or touched so it was surprising it meant and still means so much to me.
The other things I treasure are photos of him, mementos that he left behind (books, records, CDs, Olympic pins, little things he kept in his room), things that remind me of him (my Buddha collection, jazz music, musicians he liked). And of course the biggest tangible grounding tool is my office. I converted his bedroom (the last room he lived in before his death) into my office.
Being there makes me feel like he's always there with me.
*  *  *  *  *
This concludes this three-part series. Catch up here Early Indicators of Bipolar Disorder and Keeping Mania in Check. Stay in touch with Madeline here– Facebook / Website / Twitter:@madeline40.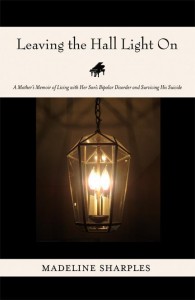 Madeline Tasky Sharples is the author of Leaving the Hall Light On: A Mother's Memoir of Living with Her Son's Bipolar Disorder and Surviving His Suicide (Dream of Things) and Blue-Collar Women: Trailblazing Women Take on Men-Only Jobs (New Horizon Press).
She co-edited The Great American Poetry Show and wrote poetry for The Emerging Goddess photography book.
Her articles appear regularly at Naturally Savvy and Aging Bodies and on her blogs, Choices and Red Room, and she is writing a novel. Madeline's mission since the death of her son is to raise awareness, educate, and erase the stigma of mental illness and suicide in hopes of saving lives.