I Have My Non-Identifying Information–So Why Reunite?
by Laura on March 20th, 2013
After writing about Dear Stranger Who is Also My Brother, many readers were kicked in the butt inspired to contact lost, secret or estranged relatives. So I'm continuing right on.
Yeah, you heard me, I've got more.
Out with secrets and lies! Out OUT damn spot!
Here is a new semi-occasional series called (ta da da da dummmm!) Dear Adopted Girl. And before you get all post-feminist-offended by the word "girl," read on:
Without further ado, here is …
Dear Adopted Girl,
What's all this hoopla about reunion? What's so important about DNA? I prefer to leave well-enough alone.
I'm adopted, the people who raised me are my mom and dad. That's enough family for me. XYZ Adoption Agency provided me with all the information I need.
Signed,
–What's the big deal about search and reunion?
*  *  *  *  *
Dear Big Deal,
A few months ago, I might have let bygones be bygones and agreed with that old adage about adoptees falling into one of two categories: A. Adoptees who want need to search, and B. Adoptees who don't.
I've seen the "Adoptees who don't" say that they are at peace with their adoptions and adamantly affirm they possess no need to search. I might have even kept quiet about my view that those who don't search likely have deep-rooted post-adoption issues (oh yes, I went there) so inexorably intertwined with their sense of self and family, that they fear reuniting could unravel their entire lives.
But I can keep quiet no longer! Why are we not surprised, Laura? We get it, you're "over" secrets and lies.
You believe you know the whole story?
Think again, my friend. Think again.
At the time of adoption, adoptive parents often receive "non-identifying information (NII)",* a written document, or information provided orally and jotted down by adoptive parents. The NII ostensibly states some biological information about the adoptee's origins.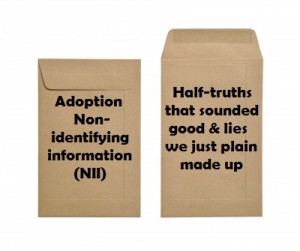 Here's the rub. … There's no oath required of adoption agencies. There's no promise to tell the truth, the whole truth and nothing but the truth.
Hell, birth families weren't required to give accurate information, and agencies hardly did any corroborating. In some adoptions, birth parents didn't even use their real names! That's shenanigans right there.
Lies Agencies Tell (or) Why you should search
My friend, adoptee Lynn Grubb received the results from Population Finder, which uses information from the Stanford University database (the Human Genome Project) to map DNA and ethnic heritage. These services can also be used to find biological relatives.
In My Ethnicity Revealed (sort of), Lynn stated that she's Northern European, which she knew was from her mom's side, because they are in reunion. Lynn also learned she's Native American (Central American) and Middle Eastern (Jewish), which would therefore be from her father's side. That's cool, right?
Her NII letter stated her father was: "A citizen of Peru, thought to be Italian born."
Well played, adoption agency, well played.
Who cares about height, weight & ethnicity, anyway?
The thing is, agencies often wrote down whatever they thought might sound good. They lied to birth moms, as well. Take Sam's** story:
Mine was a private attorney adoption.

When I made a visit to his office, he was surprised I had my Original Birth Certificate (OBC) in my possession and said, "I tried to make sure there was no way my adoptions would ever be traced."

He said that the "non-identifying" information on birth mothers [he worked with] were all the same. 5'5, Caucasian, brown hair, blue eyes. …

[My first mother] died while searching for me, but was told she had given birth to a boy, so she died thinking she was leaving a son.
Then there's Michelle's story. Even after reunion with her birth mother, she still doesn't know the truth.
I was lied to and so was the agency.

I cannot completely fault the agency for this, because they only believed the false information my birth mother gave them. Although, I do believe reform is needed in this area. Not sure what the answer is, but there has to be some way of digging deeper to get correct info, birth father identification, a factual ancestral profile, etc. before a child is relinquished.

My mother wanted to keep my true father's identity a secret. She lied to the agency and the name on my OBC is also a lie. (Kind of ruins the joy for me of getting my OBC in the future when my state opens up.) All of the NII info I received about my father's age, hair and eye color, height, occupation, was a lie.
The very reason for your adoption may have been a lie. The agency may have believed they were protecting you from painful truths. Alternately, they may have been "protecting" the bad behavior of the birth family individual who paid the agency fee.
There are so many stories like these. Even the very basic question so many adoptees tell themselves, "Why would I search? She didn't want me." … I'm sorry to be blunt, but I believe that's anger and grief talking. For the majority of birth moms, it wasn't a matter of "want," it was a matter of "couldn't," or being told (and believing) they "shouldn't" keep their child.
Even if the truth is painful, it's better than living a lie.
And, Mr. Big Deal, if you rely solely on the information you were told, you may never know the truth.
*  *  *  *  *
Have a question for Dear Adopted Girl? email me at laura @ adoptedrealitymemoir.com. (remember to remove the spaces first)
Have a story about adoption agency and NII shenanigans? Comment below, or send me an email. I would love to feature more stories uncovering the secrets and lies told in adoption.
* Read more about Non-identifying information (NII) on the new-and-improved constantly updated Adoption Glossary Page.
** Some names have been changed.
envelope image from freedigitalphotos.net