Adoption Manifesto–It's Go Time
I've made peace with my adoptee status; I've emerged from my own adoption fog. I had have post-adoption issues, and yet, I love both my moms. Yes, I said "both."
That doesn't mean that I like adoption as an institution as it is practiced today. That doesn't mean that everyone will agree that I'm out of the fog. But each person's fog is their own. I've turned adoption fog into adoption clarity …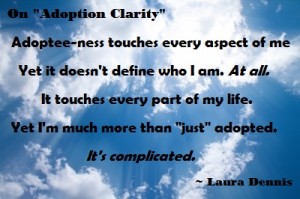 But I'm still learning, I'm still evolving.
I love being a part of my adoptee community, but I also love being an ex-dancer, a PhD dropout, a mom, a wife, a writer, a domestic goddess, a non-exercising-yoga-pants-wearing-fashionista, an armchair psychologist, an un-believer, a friend, and someone who tries to be a good person but admittedly, doesn't always succeed.
It's complicated. … And …
This is my Adoption Manifesto.
A manifesto is a published verbal declaration of the intentions, motives, or views of the issuer.

A manifesto usually accepts a previously published opinion or public consensus and/or promotes a new idea with prescriptive notions for carrying out changes the author believes should be made.
My views on adoption might not make very much sense to someone who's read only one or two posts of mine. I say I hate that adoption agencies make so much money off of adoption.
And yet … I go ahead and publish an article about motherhood [click here] … on Mother's Day … written by an adoptive mom, who is vice-president of the Adoption Council of Canada.
It's complicated.
Here's the truth: ACC is a largely volunteer organization, they do not charge fees to adoptive parents. Also, I'm a type A good student adoptee, who did and does do her homework.
I advocate for change in the way adoption is practiced, I support adoptees, I want to see adoption reduced worldwide.
And yet … I write guest posts for adoption agencies [click here]  (!).
I believe in family preservation, giving a hand up instead of taking away a baby.
And yet … I'm not gonna tell someone else how to create their family. I'm not gonna say to an infertile couple: it's unethical to adopt, ever.  That's not for me to say. I'm going to help educate them, answer their questions, steer them towards ethical practices.
What happened to the "blasting away of adoption fog"?
So … following the aforementioned Mother's Day post written by Deborah Brennan [click here], I was accused of being a brainwashed kool-aid addict who hates first moms. Not a fog-blaster after all. But you know what? It's complicated. My views don't fit neatly in one camp. This process of understanding adoption involves actually turning on my thinking cap critical thinking, and answers are not always simple or straightforward.
Some would say that I'm in the adoption fog because I know that there will be women (a small minority, but still, they exist) who, given all the support and resources in the world, truly don't want to parent and do choose adoption.
Some would say I'm in the fog because I know that there are first moms who have rejected their son or daughter. The school of thought that says first moms are merely rejecting their pain does little for an adoptee who hears "Don't call me again, ever." Or, the first mom who posts on her Facebook page … "I'm so happy to have my two daughters in my life," when the third (adopted out) daughter can plainly read this magical thinking.
That's rejection in my book, folks.
Some would say that I'm in the fog because as a matter of reproductive justice, I do not think that adoption should be illegal.
Here's what I do believe:
Should coercion in adoption be illegal? Yes.
Should adoption agencies be strictly regulated, subject to governmental standards, and not allowed to charge fees to adoptive parents? Yes.
Should a neutral third-party be in charge of evaluating adoptive parents, as opposed to adoption agencies? Yes.
Should post-adoption services provide support for first moms, frequent check-ups into the adoptive parents and help for the adoptee? Yes.
Should a waiting period be instituted, providing mothers time to bond with their child before relinquishment? Yes.
Should mothers have a time period in which to change their minds about relinquishing? Yes.
Should women who want to adopt process their infertility loss before jumping into adoption, lest the adoptee have to compete with "the missing biological child they were never able to have"? Yes.
Should open adoption agreements be legally enforceable, modeled on child custody agreements in matters of divorce? Yes.
Should adoptees have open, unfettered access to their real, accurate, original birth documents? Yes.
Here's a fog-free thought: Adoption is going to happen. It's up to us–those who've been there, done that–to say how and when and if adoption should be practiced from a policy and advocacy standpoint.
Let's look at Deborah's motherhood story …
Did Deborah tell the story from her adoptive parent perspective?
Yes, and that's okay. We should listen to her perspective and engage in the areas that we see need change. To wit:
Are Craigslist ads and other direct expectant-mother-to-prospective-adoptive-parent contact unethical? Yes.
But you know what? Crucify me now. I stand by my statement that Deborah's story was adoption fog-free. Why? What? How?
First of all, let's remember, each person's adoption fog is their own. One person's fog is another person's clarity. [See above regarding those who believe I am in the fog.] Deborah stated:
When the chances of another pregnancy for me became remote, we focused our efforts on adoption … We were also hoping for an open adoption.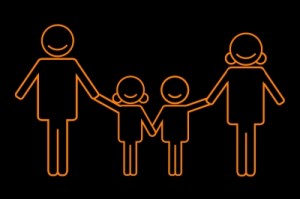 Here's the plain truth. I said it before: I'm not going to say to a woman how she should create her family. In Deborah's case, yes, she had a biological child; but she wanted a sibling for him. Who am I to say Deborah should have endured rounds of invasive medical procedures to have another biological child? My husband and I wanted a sibling for my daughter. That's a decision between us.
Some of my readers took offense to Deborah's method of finding a baby by placing an ad in a college newspaper. I admit, I didn't like it either. But. And here's the big fog-free but: she admitted her actions to us. She didn't hide it. She opened herself to scrutiny. She also stated that it was "against my very conservative judgment."
This is where we can engage in a dialogue with adoptive parents. We can create change going forward, so that this type of "benign coercion" doesn't happen in the future.
Look. I don't know if Artrina was coerced or not. This wasn't Artrina's story, this was Deborah's story. I have plenty of friends who have adopted children in open adoptions … who were there in the hospital, if not the actual delivery room. I do believe women recovering from giving birth need more time to make their final decision. But I'm not going to go on the attack against adoptive moms who were there to bond with the baby they plan to adopt. It's not a productive conversation.
For Mother's Day, Lori Holden, author of The Open-Hearted Way to Open Adoption, has open adoptions with the original mothers of both her children from infancy … from the hospital. She posted in I'm Raising Someone Else's Children
Those early days of gaining my footing in the mom arena were a challenge. I felt like an imposter. In the moments when I was overwhelmed by the new responsibilities of motherhood, first to one child and then to two, I wondered if there had been a giant mistake. What divine entity thought it was a good idea for me to raise somebody else's children? (Oddly, it must have been the same divine entity that I bowed to in gratitude on a daily basis.)
Lori sees it as a both/and situation–both women are the mothers. The adoptee is part of her biology and her biography.
The fact that Deborah was acknowledging first mother pain is important. But. Let's remember from Deborah's story: she wanted more openness, and Artrina was unable to be there early on. It was too painful. And I get that. I truly feel for original mother pain.
But should a legal agreement have forced Artrina to show up more often, in spite of her own grieving process?
I don't know the answer to that.
As another reader pointed out: But it's about the adoptee. It's true, one thing that Deborah really didn't talk much about was her daughter's pain and loss. Through all of this, we should remember that it's about what's best for the child.
So which is better? Open or closed adoption?
Here's the complicated part … I don't have the long-term study results, and so my views are still evolving.
Are open adoptions less traumatic for the child than closed ones?
What about open adoptions (no secrecy and lies) but without original-family contact? Is that better? At least the adoptee would have her accurate records and medical health information. 
Is it better for the adoptee to experience the ongoing pain and confusion of seeing his original mom periodically, but wondering why he doesn't get to live with her?
I don't have the answers, and the few teenaged adoptees who grew up in open adoptions don't seem to have much peace about it, either. One adoptee I spoke with loves seeing her biological half-siblings, but aches because they live far away and she can't live with them. She loves her adoptive mom, too, but wished she had been raised with her siblings as siblings. She feels conflicted.
Then there are the adoptee late-teenage brothers who are struggling to maintain their mental health. Their shared first mom has a drug problem that she can't seem to kick, their birth fathers are not around, and the boys are struggling to find their place in the world. Their adoptive mom is at her wit's end. Of course knowing is better than not knowing, but each time the boys see their first mom, their behavior is sent into a self-destructive tailspin.
Things that need to change in adoption
Personal stories aside, let's talk activism.
Adoptees and first moms must demand a place at the table. Here we have the vice-president of the Adoptive Council of Canada being very open and forthright. Let's engage, not name-call. Let's come up with best practices and try to change the unethical ones.
From the ACC website regarding their values:
Recognizing the differential distribution of power in adoptive relationships, we are committed to the establishment of equitable relationships.

Coercion must play no part in the facilitation of an adoption.

The ACC believes in demonstrating consideration and respect for all members of the adoption constellation, and in the fundamental right of all persons to have open access to adoption records and to their birth history.

The Board of the Adoption Council of Canada encourages you to comment on these principles and to offer your suggestions. Our e-mail address is info@adoption.ca.
There ya go–if you have something to add, email the council.
Change comes within, but true change needs buy-in from the top.
If we acknowledge that adoption is going to happen, we need to engage with the still dominant voice of the adopting parents, with the adoption agencies who still run things to a large extent. I think we can find common ground.
Most adoptive parents don't like the exorbitant fees charged by agencies, either. Most adoptive parents realize that home studies are a joke.
Government policies should encourage family preservation, but they should better regulate adoption and adoption agencies. There needs to be oversight when it comes to maternity homes–in which expectant mothers are isolated from their friends, family and support network … just to wait as if mere gestational carriers.
Overall, adoption needs to be a last-restort option, a permanent solution to a temporary problem.
Expectant mothers should be given support to keep their child. Women shouldn't be coerced. Oh yeah, and fathers should have a say, too.
Let's make changes to improve the way adoption is practiced–so that the child benefits. So that if a child is placed for adoption, he is raised in a loving, sane, stable home that honors his biology, his ethnicity, his heritage, and his pain.
*  *  *  *  *
Where do you stand on all of this? What do you love? What would you add to this Adoption Manifesto? What do you disagree with? Please … comment below.
"Clouds," "Adorable Girl Drawing Her Family" by Phaitoon and "Family Icon" by digitalart from freedigitalphotos.net