PTSD and Triggers–Author Conversation with Juanima Hiatt
It used to be a common (mis)perception that only (some) soldiers returning from war got PTSD. But today, we know that Post-Traumatic Stress Disorder affects trauma and abuse survivors (and even some adoptees who have left their post-adoption issues unaddressed*).
The Invisible Storm provides readers a front-row seat to the confusion, angst and mental destitution that author Juanima Hiatt experienced with the onset of her PTSD. Read my review on Amazon here.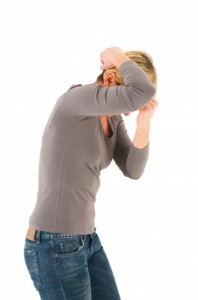 It's important to note: Juanima did not have PTSD during all of the years following the trauma of the abuse she received as a child and teen. Or some might say, she had PTSD, but it lay dormant. Tom-A-to, tom-aaa-to. In her young adult years, she spoke rather "normally" about her abuse, stating that she'd recovered and was happy to live a pain-free life.
You know what they say about denial …
With the birth of her second child, the PTSD attacked like a tsunami on a balmy summer day. It was unexpected; it was completely and utterly overwhelming. And Juanima nearly drowned.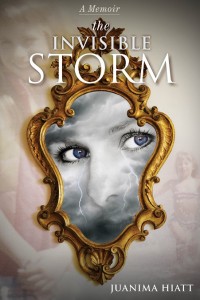 Spoiler Alert: The book shows the hard work. As a (relatively sane) reader, I sat there wondering: when is she going to realize that hiding in a dark room and self-hurting is getting her nowhere? But Juanima makes us see exactly why she couldn't get the help she needed. She didn't know exactly what she needed.
Expert upon expert, therapist upon therapist, either rejected her, led her in the wrong direction, or (worse of all in my opinion) … warmly encouraged her to "open up," and proceeded to coldly shut the door. How many times did she hear, "I can't help you. [read: you're too messed up for my care.] Here's a recommendation for someone who might work."
Might. It makes me so mad.
The fact that Juanima persevered, that even in the deepest hours of her illness she didn't give up, that she knew down to the very core of herself that she had to find a way to get better for the sake of her children … those are the amazing aspects of this honest, compelling memoir.
Of course, you knew this was coming I had to pick her brain …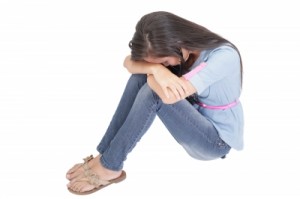 Laura — The first sections of your memoir talk about a lot of the symptoms of PTSD, without going into the actual trauma. We go along the journey with you as you at first resist with every fiber of your being the memoires of sexual abuse and self-hate.
As you allow yourself to open the "sealed black bag" that resides in the recess of your mind, as you slowly begin to heal, those memories trigger panic attacks, amnesia, numbness, crying, among other awful, terrifying experiences.
What is a "trigger"?
Laura — Can you please explain, as it relates to PTSD and trauma, what is a trigger?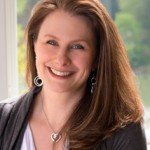 Juanima — A trigger is any external (or internal) stressor that in some way reminds you of the trauma you experienced – sometimes unconsciously – and causes actual physiological and psychological reactions. The trigger can be a smell, a sound, a feeling, a place, a look from someone, or a certain word or phrase. When you're in the throes of PTSD, it's difficult to anticipate triggers. Consequently, the easiest way to avoid them is to avoid everything. I did that for a long time, withdrawing inside my home where it seemed safe. But even that was an illusion, because I was still haunted by flashbacks of the trauma, intrusive thoughts, and nightmares. I never felt safe. It seemed I never could escape the pain of it all.
Does a trigger have to always be a trigger?
Laura — I understand. But how can you get past a trigger, as in have it lose power over you?
Juanima – Unfortunately, "how to get past it" is a huge question without a simple answer.  PTSD feels like a never-ending, dark existence.  It didn't begin to improve for me until I faced the trauma. It's not easy. There is a LOT of fear involved in that decision, because it's the trauma that causes all the pain and torment, and constantly inflicts debilitating symptoms of fear, reliving the event over and over, numbing, avoidance, nightmares, and a heightened startle response. When you endure these symptoms for months and years, what you come to believe is that PTSD is bigger than you, and the trauma is too big to face.  It makes you terrified to even look its way, so you avoid it.  You fight the symptoms, you pretend you're okay, and in your isolation, you do what you need to do to cope with it.
I realize that all sounds pretty depressing!  It is a crippling place to be; but there's HOPE!!! Years ago, I was reminded that I survived the very trauma that haunted me now, and what's really happening is a biological response in the brain. What I endured was just too much for my brain to comprehend and process, so I became "stuck" in that traumatic state.  That traumatic state doesn't just go away.  You can't run from it – you have to face it. The good news is that there are so many treatment options available. What worked for me was a variety of things, but it will be different for everyone. You've just got to keep trying until you find something that clicks for you. And be patient.
Healing takes TIME.
Laura – Maybe PTSD survivors truly are soldiers of a sort. … Not literally, rather in the sense of soldiering on in the face of seemingly insumountable emotional, psychological and yes, at times, physical pain.
*  *  *  *  *
Thanks, so much Juanima!
As I'm wont to do, we'll be seeing more of Juanima here on Expat Adoptee Mommy (I always have lots of questions for smart, insightful people.) Soooo… pick up her book and read it today–so you can follow along with this Trauma, Triggers and Abuse series, ask her questions and make progress on the journey to healing.
One random commenter will be selected to receive a free copy of The Invisible Storm!
Bio – Juanima Hiatt is the mother of two girls, a life coach, speaker, and author.  Her compelling memoir, The Invisible Storm, portrays her battle with PTSD and what it takes to overcome the disorder. Her uplifting blog focuses on healthy living, PTSD, and positive life change. Juanima is currently working on a YA novel series, and has a political thriller in development as well, but prioritizes helping people through her coaching practice to transform their life from a place of stagnancy and frustration, to balance, joy, and complete freedom.  You can contact her at juanimahiatt@gmail.com.
* Before you get your panties in a bunch, not all adoptees have PTSD. However. We have to acknowledge that the loss of family, ethnicity and sometimes even language–as happens in adoption, is a trauma. The loss of mother at birth is what's referred to in the adoption community as "The Primal Wound."
Here's the sad truth: some adoptees do suffer from PTSD as a result of having been adopted. Even if post-adoption symptoms don't become "full blown" PTSD, understanding the disorder is a great step for those who want to help adoptees heal.
"Scared Woman" by Ambro and "A Very Sad And Depressed Woman Crying" by David Castillo Dominici from at freedigitalphotos.net