On Motherhood, Daughterhood, Adoption & Grief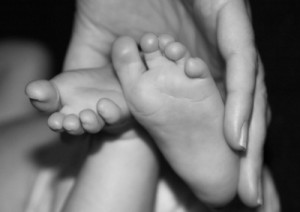 My five-year-old recently told me that when she dies, she'd like to have a grave next to my husband and mine. Of course, this is not a subject I bring up with her (except when necessary).  Apparently, it was something she'd been contemplating; since she recently visited the grave of one of her (very old) extended family members here in Serbia (it's customary to visit a loved one's grave on the anniversary of his or her birth or death, or both, each year).
Even though I was taken back a bit, I thought it was a wonderful sentiment.
Of course, my little girl will have many other people in her future life with whom she may choose to be buried. Her husband/wife/or love-of-her-life. Perhaps her own children, although I would never wish upon her the unique and devastating grief of passing before one's offspring.
My relationship with my (non-adopted) daughter is complicated, talk-y, and full of love. She is a high maintenance person, and she demands a level of attention that I thought was unique only to myself. My husband can attest to this. (The apple doesn't fall far from this tree, huh?).
"I love you"
Our serious conversations don't happen every day, but most days she gets mad at me for one thing or another. I know, I'm such a bad mom for requiring that she sit on her bottom and feed herself at dinner. It's terrible.
And so, I was gratified when we had when I told her, randomly, "I love you," and D replied,
"Momma, I know that."
How amazing is that? Just a normal everyday thing, for her to know deeply, intrinsically and yet totally normatively … that her mommy loves her.
Love that girl.
Relationships in adoption
The thing is, with adoption, so much of that is completely … well, complicated.
Today, although I began by writing about my relationship with my daughter, I will not be talking about my own two moms. I want to talk about adoption, first moms, relationships and grief in context to a dear friend who recently lost her mom. In this particular post, my friend, Deanna Doss Shrodes, referred to this woman simply as "she," and referenced other family members including (but not limited to) "sister."
Someone in her Facebook feed needed to clarify: Is this your mom?
My friend's reply: Yes, it's my natural mother [who passed away].
I know, I know, many of you are dying to ask … did you real mom die? Yes, she was real, in the physical sense. Yes, she did die, she was/is a real mom.
When a first mother dies, the adoptee must mourn not only the death of a mother, but the death of what wasn't was and what could have been.
There is nothing straightforward about grief and managing it. But add in adoption and reunion, and you've got a tricky mix.
Complete the recipe with decades-held secrets, adamant denials, and layers of lies on one side … with reality-seeking and truth-telling on the other side, and well … the cookie batter just went nuclear. Laura, could you mix metaphors more randomly?
Yes, my friend's first mother recently passed away. Her real mother—a real person who was cherished and who deserved to be found, died surrounded by loved ones. Including the daughter she didn't get to raise. But a daughter nonetheless. A first born daughter, if you want to be accurate about it (and I do!).
Yet, I have very little I can do from so far away to help my friend. It got me thinking about grief.
I know a lot about adoption grief and loss. I know very little about grief from death.
I know a lot about missing out on time with my first mother. I know very little about what it would be like to lose her again. Permanently.
Compared with Deanna, I'm in such a different place. Thankfully. But you know that good ol' adoptee resilience? Well, Deanna has got it in spades. Life just keeps on throwing more at her, and she keeps on keepin' on. She's juggling, she's managing, she's grieving, she's crying … and yet.
She's strong.
She's resilient.
She will survive this.
As will all of us; all of us affected by adoption, all of who grieve in our own personal ways. Big and small. Tragic and every day. Whether it's as devastating as the death of a loved one, or as petty as ignorant people running their mouth at the wrong time.
We are strong.
We are resilient.
And together, by sharing our stories and lifting one another up, we will survive.