Infusing Fog-Free Air into the Adoption Vacuum
So many adoptees grew up in an adoption vacuum; make that, an adoption-positive vacuum.
If we were lucky (and you know we were, we were rescued by adoption!!), then we had an adopted sibling with whom to share family life growing up.
As happens so many times, a sibling experience can end up being quite different than another's, even if the kids are close in age (especially when they are no). Adopted or not. Check out Deanna's recent post, When People Dismiss Your Story for a heart-breaking but eye-opening example.
I lived in such an adoption-positive vacuum. Although I knew much of it was Shenanigans and had no trouble calling it like I saw it (i.e. writing a memoir about how unaddressed post-adoption issues led to a major break with reality).
And then one day, I came upon The Declassified Adoptee. For someone living in an adoption vacuum, with nothing but adoption-positive oxygen to breathe, the writings of Amanda H.L. Transue-Woolston are rarified air, I tell you.
It's so fog-free, in-the-fog adoptees may need an APOM (adoption-positive oxygen mask). Totally just made that up.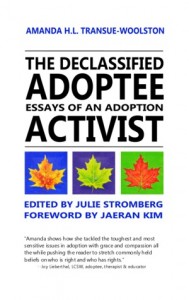 Amanda has recently compiled some of her best posts into the book, The Declassified Adoptee, Essays of an Adoption Activist. You can read my reviews on Goodreads and Amazon.
Even if you follow her blog already, and this isn't your first time to the fog-free rodeo, I highly recommend it. Seeing these articles compiled into a book creates a sense of continuity, a holistic view of how the author's personal experience with adoption informs and enriches her ability to advocate for change.
As a mother of small children, I can't (or chose not to) recall the number of times I've said, "Use your words!" … To avoid fights, to explain one's wants/needs/frustrations. Sometimes those in adoptoworld get so heated (myself included), but the reality is, straight-up, Amanda is so good with using her words, we can (continue to) learn from her. She writes
When we discuss difficult topics, I think we should remember that adoption is an institution, it is not a person. We should be able to talk about adoption, and how it affects people in both good ways and bad ways, without feeling insulted as people.
Amen, Sister!
Beyond the clear, concise explanations of how adoption as an institution fits into the framework of advocating for social justice, Amanda infuses fresh fog-free air with personal stories that elucidate her purpose in what she does. She writes
My ultimate goal is to challenge the common belief that adoption is a mysterious process that exists within a vacuum, and therefore, should abide by its own rules and have its policies go unquestioned. Adoption does not occur in a vacuum. … We have to discuss the experiences of those who live adoption. We have to face what is not working. We will fail those who need help most if we do not do these things.
There's that word again. Vacuum.
Growing up, I had little-to-no interaction with adoptees who were questioning and examining their adoptee status. (And here I just thought I was the black sheep, always "wanting" to be different!)
I've emerged from my own personal vacuum.
I've moved out of the adoption fog.
Now it's up to me—and others—to join Amanda in looking at not just our own personal adoption-positive vacuums, but to look at how we can change and improve adoption as an institution.
For anyone who buys The Declassified Adoptee, Essays of an Adoption Activist this month (October), Amanda will send you a personal thank you note! For more details, check out Amanda's blog.
*  *  *
New! One random commenter will received a signed paperback copy of Amanda's book!