Gotcha Day–Adoption Glossary
Readers are super busy these days. Time-strapped, and yes, possibly wondering why the hell I need to keep on posting these damned Adoption Glossary blogs.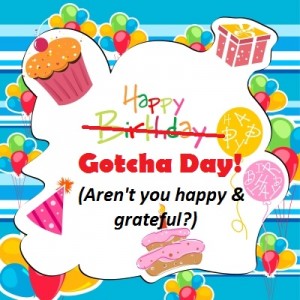 For your easy digestion: I hereby provide you with a quick, 5-7-5 haiku summary, entitled:
Why Celebrate Gotcha Day?
Poor taste. Out-of-touch.

What's wrong with birthday party?

Repeat: Kid focus.
The perils of the term "Gotcha Day" are so painfully obvious to me. Come on, I do not even know why we are talking about this. I would love for it to be an antiquated, anachronistic term that we can all laugh about.
As if.
Dominant Narratives =
Do people still really say, "Gotcha! Day"? People. Really?  Yes. They. Do. Examples:
Gotcha Day is a perfectly fine day to celebrate. After all, Adoption is LOVE.
My kids are sooo excited to celebrate, especially if there's cake!
We want to point out to

everybody

at my child's school that there is nothing wrong with adoption! We want to shout it to the world! Adoption is great!
Ohmigawd. Could you imagine? I would have been horrified, embarrassed, confused! Telling my entire grammar school class that we should celebrate that I'm adopted? Yessss! … That's exactly what pre-adolescents want; to be shown to be different than their peers. Totally.
If you are the writer of the dominant, preferred narrative, i.e. the paying customer (adoptive parents) … Why choose Gotcha Day? Why try to "re-appropriate it" to mean something "wonderful"? Why not just celebrate Family Day? It's so much more benign. (I'm not even being sarcastic; Family Day would be an okay alternative.)
I'm not arguing against celebrating a child coming into a new family. I'm really not! I'm taking issue with terminology.
Gotcha Day represents an aggressive stance. No. It's not "I've got you, love you"; that's not what it means. We gotcha. We took ya from somewhere, from someONE.
Here are a few (anomonzied) responses from those touched by adoption:
As a birthmother, the phrase feels like someone was snatching my child, because … that's the day I lost my baby.
It's demeaning to adoptees.
It competes with the birth day, thereby negating it.
It's just wrong on so many levels.
But what about the children?
There's a new book on Amazon called Gotcha Day, written by–believe-it-or-not–an adoptee who is an adoptive mom. From the description:
And there will be balloons and cake and maybe even presents, but it's not a birthday. With just a few more clues, Suzie figures it out: it's her Gotcha Day! That's the day her family celebrates the date they became a family, the day they recount first holding her and bringing her home and show her all over again how special she is and how much they love her.
Noooo, it's not a birthday. Yes, it does celebrate a family history, but it celebrates only the family history of the adoptive family. The child (if we were to be child-focused) had a life before the adoptive family who first held little Suzie.
And I get it, I totally get it. When I was five, and we went to "get" my little brother; his life began for me when I got to hold him, right there at the adoption agency. I was so happy. I didn't realize that my brother had a life before I held him.
I. was. five years old. Seriously. I didn't know any better.
Words Matter.
Language is important. What we say matters. And: Adopted children grow up and ask questions.
I understand, you still want to celebrate Gotcha Day. If you want to commemorate the day you adopted your child and insist on using the phrase, here are a few gift suggestions:
Complimentary counseling sessions for your child's first mother
The original un-amended birth certificate for your child
A "Free Pass" for your child, to reunite with his or her first family  … without the requisite guilt trip
Additional resources should one reconsider the "Gotcha Day" nomenclature:
Image from freedigitalphotos.net