Darwinism, Lawsuits and Vacations in the Balkans
Oh my god, if my American mommy friends were here … They. would. freak. out. They'd totally be on the next plane back to the States.
These were my thoughts the first time I visited the Montenegrin seaside. I knew I had to manage my expectations lest I have a continuous anxiety attack.
Truly, the definition of appropriate measures to guard a child's safety are viewed differently in the Balkans.
Whereas the American approach is to all-but-eliminate legal liability and to cover every single possible negative eventuality … the safety of a child here is left to parents, grandparents … and when age-appropriate: the child himself.
U.S. vs. Balkans: Child Safety Face-Off
My kids are borderline hyper very active and athletic, and I definitely was spoiled by the plethora of clean, safe parks available to us in Southern California.
That's not only thing you're spoiled about, Laura.
Didn't you know? "High-maintenence" is my middle name. Nice to meet you.
In the U.S., playgrounds are non-smoking, curb-your-dog oases, padded with woodchips, or better yet, recycled rubber tire chips. Or that squishy material they use for track-and-field.
In Serbia, the majority of playgrounds are covered with asphalt (yes, you read that right), peppered with dog shit and cigarette butts. Those playgrounds that are described as "beautiful" (a relative term, as most structures are covered in graffiti) do have squishy material or … tiny pebbles. Hello!? Toddler choking hazard!
In the U.S., every possible raised platform is appropriately blocked by some gate or netting, or it leads to a smooth plastic slide.
In Serbia, platforms are concussions in-the-making open. Slides are either (broken) plastic, or metal, that, on a hot day becomes a burn-inducing fun trap.
In the U.S., the photo below is a lawsuit waiting to happen. A toddler, standing on some slippery metal sculpture (possibly a real anchor). Barefoot, in a public place. In the dark. Next to deep water, and ACK! NO railings! … It's veritable child abuse!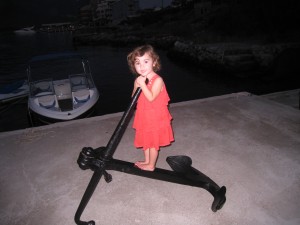 In the Balkans, it's called a lovely restaurant.
Concrete "beaches" with no children's gates?
In the Balkans, it's called Darwinism.
One relaxed Serbian mom told me, "They'll learn. In the meantime, put swimmies on the kids, that way you don't have to worry when they fall in." [I'm thinking "when"! Jesus, there are rocks in the water they can hit their heads on!]
After three summers, it's all good. Our family remains injury-free (knock on wood).
More importantly, my kids love the Montenegrin seaside. L.O.V.E. Sun, salt water, swimming. Eating a huge, artery-clogging breakfast of kobasica (fried sausage) and eggs with ripe, juicy tomatoes. Spending the entire day by the water with their friends.
At the seaside, clothing is optional for the under-five set. Girls wear only swim panties until approximately age twelve, or when they start developing–whichever comes sooner. Sometimes not even then. Hell, it is Europe, right?
Beach-life is communal, with grandmas bringing fresh fruit and salty snacks for all the kids to share. It's usually ice cream for "lunch." Head home for an early dinner; usually fresh fish, caught that morning, served with traditional roasted potatoes and blitva (a domestic green leafy vegetable, like kale). Then, more ice cream.
Only this American mom requires a nightly bath to remove the layers of sunscreen, ice cream-drips, sweat, salt water, dirt and lord-knows-what-else … before an early bedtime. Yep, it's wash, rinse and repeat the next day.
For my kids, the seaside means freedom.
(And yes, we'll be back there this summer.)