Cherishing Children & the Perception of Adoption in Serbia
The Old World notion I like best is the strong sense of family, specifically the deep love for children.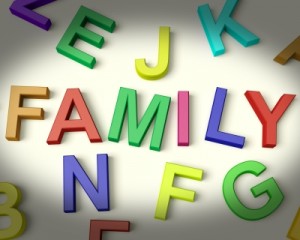 Last week I talked about smoking and stomach colds, complaining about the general lack of awareness in Serbia when it comes to lighting up in front of non-smokers. And by non-smokers, I (shocker!) include children. I chalked the phenomena up to an old-school mentality in which long-held values trump innovative ideas, and yes, even that new fangled thing called "science."
Terms for Family
Let's start with the way people talk about family in the Serbian language. For Americans listening to Serbs talk about their childhood, it feels like they must have grown up in a huge family, with at least ten brothers and sisters.
That's because in Serbian,  brat (directly translated to brother), can include a variety of male family members around the same age.
Brat in colloquial use, is not limited to the male child born to the same parents. Noooo. Brat is also first and even second male cousins, including cousins once removed. People refer to their brother when talking about a male relative of the same generation. So, even if he's "technically" an uncle or a nephew, he's referred to as brat, a brother. The same goes for sestra, or sister.
All of this "subtraction by one level of family-tree distance" can create confusion. … Not everyone grew up with a ton of siblings!
Then there's rodjak, or cousin, which, as far as I can figure, is pretty much anyone who is possibly, distantly related. (Therefore, he or she is a family member, and definitely not someone who can be dated.)
Language is important. Words have meaning. The fact that people consider first and second cousins of the same age to be their brothers and sisters is relevant. It shows that familial relations are important, that people "keep it close." If someone who's considered a sestra or rodjak asks for a job or help or whatever, well, that's family.
There's a responsiblity there.
Adoption by non-family members is a strange concept
That's why the concept of giving away a baby to a "stranger" is very confusing.
Infant adoption (to get a white baby) as it is practiced in the US through private organizations (with fees paid by adoptive parents) is not a common practice. In fact, it may be illegal in Serbia.
Of course, there are orphanages. Of course it happens that moms are unable to care for, or keep their biological children. People die, people get sick, people just can't handle raising a baby.
But the perception is that the baby should be raised by someone "in the family." The idea that birth parents would relinquish legal rights to their child and give the baby to strangers is absurd. There's always someone to take care of the child.
The Balkans is an area rife with religious history, including Catholic, Orthodox Christian and Muslim traditions. However, any shame about a baby conceived outside of marriage seems to be trumped by the fact that there is a baby in the picture at all.
I'm sure there are exceptions. But generally, a baby is a blessing. That's it. To je to.
So you may be wondering: What do people here think of the fact that I'm adopted?
The first reaction I get is confusion. Heads shaking, hands waving, furrowed brows. … Wait, wait, wait. You were given away? … Why? Why couldn't someone keep you?
And then: You were raised by strangers? Why? Why would they want to take you in? You're not theirs.
Debating Who's the real mom
After a lot of questions, and explanations, my Balkan friends usually try to come up with a case in which they knew of a baby who was born out-of-wedlock … And raised by a family member.
When I tell the story to Americans, the questions center around the experience of my adoptive mom. Why did she adopt? What was it like for her? How did she react when you wanted to search for your birth mom?
Invariably, everyone wants to define: Who is the *real* mom. Perhaps it's human nature—the need to form an opinion— independent of what I might say.
Serbs usually conclude that my birth mom is my real mom. That's blood. She just couldn't keep you.
Americans argue that my adoptive mom is my real mom—She's the one who did all the hard work to raise you.
My answer? Both moms are real moms. They exist, don't they? This isn't Santa Claus we're talking about. My first mother became my mom when she birthed me; she just didn't raise me. My adoptive mother is my mom; and she did raise me.
Now, I know both of them. I have a relationship with both of them. Therefore, I have two moms.
It's as simple as that … And at the same time … If only it were that simple.