Bipolar Delusions, Diagnoses and True Mental Health
During my escape from reality in late 2001, I had … hallucinations, paranoid delusions, suicidal ideations. I believed I was a bionic robot. I believed I was a terrorist spy responsible for 9/11.
Ohhhhh yeah, it was a crazy time.
I haven't spent much time writing on this blow about my visit to psychosis and back; bionic robots and conspiracy theories freak people out. I try to be more positive now. I don't feel comfortable with this becoming a "bipolar blog," either; I don't take mediation, I haven't done so for ten+ years.**
So, what is it, are you bipolar, or not? We need answers, dammit.
I need(ed) answers, too. It's not that easy.
As I recovered, I was very lucky to have psychologists and psychiatrists who were reluctant to label me one way or another. Of course, diagnoses are necessary for professionals to use research delineating symptoms to fit a patient's characteristics into the medical body-of-knowledge. That's how treatment plans are developed.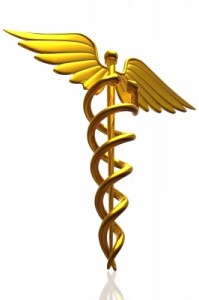 Nevertheless, all of this What If-ing from earlier this week got me thinking, What if I were to stop telling myself I might be bipolar, and instead I say, "I might not be bipolar." Perhaps I should stop defining myself in these ways, period, and just say, "I am a person with issues. Sometimes I'm high-maintenance; sometimes I'm sad. Most times I overthink all this shit."
DSM-IV and diagnosis is imperative for treatment, yes. But when I "pretend" to steal my son's bite of lasagna so he will eat his dinner within a reasonable time frame, I don't reveal to him that I'm using a layman's reverse psychology, and that I'm making it a game. No. I may pretend to know what I'm doing, but I don't reveal my methods.
I'll give the doctors credit: it was always, "You might be bipolar. We just don't know. If you have another episode, then you are definitely bipolar."
The idea that patients cling to, and define themselves according to, their diagnosis is so true. I set out my goal first-and-foremost: do. not. have. another. episode. No more trips to crazy town. No more insomnia-inspired meaning-of-life revelations.
Specifically, I focused on not to get myself in that not-sleeping, not-eating, too-many-emotional-life-events-happening at one time situation.
Intregrating identity; becoming whole
Recently, a couple of people who've read Adopted Reality have said they never really thought of me as bipolar.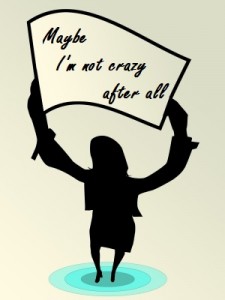 Perhaps my mental breakdown was instead an artistic person experiencing a very creative response to overwhelming circumstances. (Which took an entire book to attempt to describe.)
What If … I don't have to define, or un-define myself in psychological terminology? What If … At this point in my long-term recovery I can begin to integrate this 'very creative self' with my normal, not-hospitalized self? What would happen then?
*  *  *  *  *
Check out writer Grace Peterson's review of Adopted Reality on her blog. Here's a snippet
There is no disputing that society still has a problem with mental illness. Regardless of where the stigma originates, it's fueled by ignorance and intolerance. Better information is the way to change that. When the events of a person's life are laid out as succinctly and dramatically as they are in Adopted Reality, it becomes understandable how an otherwise normal person could succumb to a mental breakdown. This is the take-home message of this absorbing memoir.
 Thanks, Grace!
*  *  *  *  *
** Let me be perfectly clear: I am not a doctor, and I am not dispensing medical advice. For people who have bipolar diagnosis, it is often imperative that they remain in therapy and on medications. In these cases, treatment is a matter of life and death.
images from freedigitalphotos.net