Because it's Tuesday–Powerlessness and the Tragedy in Boston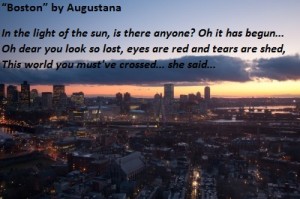 This morning my son had a significant temper tantrum because … it's Tuesday.
He wanted it to be Wednesday, as that's the morning I teach dance class at school. Alas, I cannot change what day it is. It's not within my, admittedly vast, mommy powers.
When I think about the explosions at the Boston Marathon, I want to have a significant meltdown. There is not much I can do, except express my sincere condolences and wonder … why? Why do these shitty things have to happen and I can't do anything about it. Why can't today be Wednesday?
I don't have answers, I don't even have an all-knowing god to pray to and find comfort in. (Before anyone gets all riled up, it's not like I go around actively denying god's existence … I just don't know.)
What I do have is my little life with my little family, and the same little problems I had yesterday.
I can only control so much.
People keep on circulating that quote from Mr. Rogers
When I was a boy and I would see scary things in the news, my mother would say to me, "Look for the helpers. You will always find people who are helping."

To this day, especially in times of 'disaster,' I remember my mother's words, and I am always comforted by realizing that there are still so many helpers – so many caring people in this world.
Very true and comforting words. Gotta love that Mr. Rogers.
But … I will be taking this a step further.
I will try to be a helper.
I will teach my kids to be helpers. Yes, kids can be helpers, too–not necessarily in disasters, but what about everyday life? … When they see someone getting bullied and stand up for him. When they see a lost child at the mall (which happened to us just the other day) and help her find her momma.
Today is Tuesday, and tomorrow, my son will get his wish. It will be Wednesday, and all will be right in his world.
If only it was truly that easy, especially for those touched by the tragedy in Boston.
 *  *  *  *  *
"Feet Of Runner In Evening Light" by Sura Nualpradid and "Aerial View Of Boston At Sunset" by puttsk from freedigitalphotos.net