Contributors
Adoption Therapy, Perspectives from Clients and Clinicians on Processing and Healing Post-Adoption Issues
FORTHCOMING THIS FALL 2014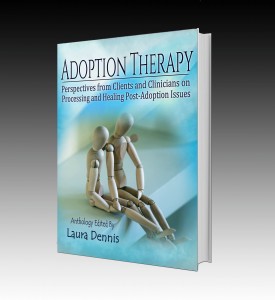 Marcy Axness, Ph.D., author of Parenting for Peace: Raising the Next Generation of Peacemakers, is a leading authority in the fields of early human development, adoption, prenatal psychology, and interpersonal neurobiology. Using as a narrative foundation her experiences as an adoptee and a mother, she writes and speaks internationally on parenting, society, and the needs of children. One of the world's few experts in the primal issues involved in adoption, Dr. Axness has taught prenatal development at the graduate level and has a private practice coaching parents and "pre-parents" around the world. She is the mother of two peacemakers, Ian and Eve, both in their twenties. She invites you to join her at Marcy Axness.
Karen Belanger is an adult adoptee, the author of Assembling Self, an adoption poetry book, and writes at her blog of the same name. She contributes at The Lost Daughters and was recently included in the Lost Daughters: Writing Adoption from a Place of Empowerment and Peace. Karen has held various leadership positions within the adoption education, reform, and activism community over the past fifteen years. She is currently submitting pieces for two other adoption books and is working on her second book.
Karen Caffrey, LPC, JD is a Licensed Professional Counselor, a writer, a reunited adoptee and an attorney. She has a private psychotherapy practice in West Hartford, Connecticut, and invites you to visit her at Karen Caffrey and on Facebook. One of her specialties is counseling adult adoptees.  Karen is also President of Access Connecticut Now, Inc., a grassroots organization that successfully lobbied for a 2014 law that has restored the right of post-1983 adoptees to access their original birth certificates. Karen and Access Connecticut remain committed to restoring the right of all Connecticut adoptees to know the truth about their origins.
Laura Dennis (Editor) was born and adopted in New Jersey and raised in Maryland. She earned a B.A. and M.F.A. in dance performance and choreography, but gave up aches and pains and bloody feet in 2004 to become a stylish, sales director for a biotech startup. Then with two children under the age of three, in 2010 she and her husband sought to simplify their lifestyle and escaped to his hometown, Belgrade. While the children learned Serbian in their cozy preschool, Laura recovered from sleep deprivation and wrote Adopted Reality, A Memoir, available on Amazon.
An adoptee activist in reunion, she writes at The Lost Daughters, Adoption Voices Magazine and her own blog, Expat (Adoptee) Mommy. Her essays have been published in Lost Daughters: Writing Adoption from a Place of Empowerment and Peace, The Perpetual Child, Dismantling the Stereotype, Adult Adoptee Anthology, and the soon-to-be-released Dear Wonderful You, Letters to Adopted & Fostered Youth Around the World. She is passionate about giving voice to the adoptee experience and is proud to have edited the popular anthology, Adoption Reunion in the Social Media Age (Entourage Publishing), along with several forthcoming titles.
Lisa Floyd grew up in a closed adoption wondering who she was and where she came from. It took many years for her adoption fog to emerge after which she decided to search for and eventually reunite with both sides of her birth families. It is only in finding her birth families and what occurred in the beginning days of her life that she has found her identity and her voice. She is passionate about adoptee rights and plans on becoming an adoption therapist to help her fellow adoptees find their authentic selves and meaningful, purpose-filled lives.
Rebecca Hawkes was adopted as an infant and is herself an adoptive parent by way of older-child foster adoption. She has presented on adoption-related topics at various venues. Her writing has appeared at Rebecca Hawkes, The Thriving Child, Lost Daughters, Adoption Voices Magazine, BlogHer, and The Huffington Post, and in the anthologies Lost Daughters: Writing Adoption From a Place of Empowerment and Peace and Adoption Reunion in the Social Media Age. She is certified as a parenting instructor by both the Beyond Consequences Institute and Gordon Training International. She is also a trained MotherWoman facilitator and a former assistant leader for The Center for Nonviolent Communication's Parent Peer Leadership Program.
Jodi Haywood is an adoptee in reunion, a wife, mom, stepmom, writer, and marathon runner. Taken from her native Britain at age two, she grew up in a closed relative adoption which, while psychologically damaging, greatly influenced her storytelling abilities. Her writing credits include two "slightly twisted" young adult novels (and many more in the works), a church history book, contributions to adoption anthologies, and her memoir/case study work-in-progress, Attachment Unavailable, which has its own Facebook page. She recently returned to college to complete a psychology degree, with the goal toward a career in post-adoption/developmental trauma therapy.
Lori Holden writes regularly at LavenderLuz.com about parenting and living mindfully and is a columnist at The Huffington Post and at the Denver Post's moms site. She is the author of The Open-Hearted Way to Open Adoption: Helping Your Child Grow Up Whole, written with her daughter's birth mom and after listening to adult adoptees and first parents tell of their varied experiences. She lives in Denver with her husband and two tweens and speaks to adoption agencies and their clients about openness in adoption and giving equal access for all citizens to original birth records. She has been known to practice the Both/And mindset when it comes to red wine and dark chocolate.
Mila C. Konomos is a reunited Korean American transracial adult adoptee. She was born in Seoul, Korea in 1975 and adopted six months later by a White American family. She has been in reunion with her Korean family since 2009. She and her husband have two children. Mila blogs at The Lost Daughters and Yoon's Blur.
Kristi Lado was adopted through the closed domestic system in Pennsylvania. Formerly an associate producer for cable TV's Forensic Files, she has since become an independent writer and advocate for open records. Kristi has served as a board member for Adoption Forum of Philadelphia and volunteers for Pennsylvania Adoptee Rights (PAR). She recently co-founded C.A.R.E.S., an online support forum for those conceived by rape, and blogs about adoption issues at Aquarian Adoptee.
Lesli Maul, LCSW is a licensed clinical social worker whose career spans two and a half decades. The past 12 have been in private practice. She enjoys speaking to groups about courage, authenticity and wholehearted living. Each October she offers a workshop to adoptees entitled, "The Daring Way™ for Adult Adoptees: Our Strength is in Our Stories". Currently she is working on certification in Animal Assisted Psychotherapy.
She is a baby scoop era adoptee in reunion. She lives in Southern California with her husband and two sons. Other passions include her rescue animals (two dogs and one cat), gardening and quilting.
Brooke Randolph, LMHC, is a parent, therapist, and adoption professional with more than twenty years of experience working with children and families. She is a private practice counselor in Indianapolis, Indiana; the Vice President of PR, Outreach, and Communications at KidsFirst Adoption Services; and the mental health expert contributor at DietsInReview.com, a national diet and fitness column. She was a founding member of MLJ Adoptions, Inc., where she served as the VP of Social Services for seven years. She is a member of the Young Professionals Advisory Board for The Villages of Indiana, Inc., a child and family services agency that serves over 1,400 children and their families each day. She adopted an older child internationally as a single woman, which she considers one of the most difficult and most rewarding things she has ever done. She has authored adoption education materials and presented at numerous conferences and workshops throughout North America. Brooke is primarily motivated to encourage, equip, and empower parents and individuals to make changes that strengthen their lives, their careers, and their families.
Suzanne Brita Schecker, Ed.D, LMHC has practiced psychotherapy for 35 years. Her work is grounded in a diverse background including training in method acting, philosophy, comparative religion, Psychosynthesis, Integrative breath work, EMDR, Compassionate Listening and mindfulness-based psychotherapy.
She offers online psychotherapy and mindfulness coaching that explores basic stillness and meditation techniques that integrate the spiritual and self-help knowledge we already have. She brings the power of mindfulness to trauma recovery, grief work, adoption, and foster care, aging, couple's and family issues and difficult life transitions. All therapy is about healing the wounds of separation from our authentic self and from those we love.
Raja Selvam, Ph.D. is a senior trainer in Peter Levine's Somatic Experiencing (SE) professional trauma training programs, and the developer of the Integral Somatic Psychotherapy (ISP) approach. His background includes body-oriented psychotherapy systems of Somatic Experiencing and Bodynamic Analysis, Jungian and archetypal psychologies, and the Intersubjective and Object Relations schools of psychoanalysis. His larger understanding of the psyche is informed by his background in Advaita Vedanta, a spiritual tradition from India. He teaches extensively in Asia, Europe, South America, Canada, and the U.S.
Lucy Sheen – Made in Hong Kong, exported to the UK as a transracial adoptee in 1960s. A dyslexic actor, writer, filmmaker, who loves Dim sum, Yorkshire puddings and a nice cuppa cha! Lucy trained at the Rose Bruford College of Speech and drama and graduated in 1985. Her first professional job was the female lead in the ground breaking British-Chinese feature film, Ping Pong (1987). Her film credits include Secrets & Lies, Something Good: The Mercury Factor. Her published writing includes, The Dance is New, Perpetual Child, An Adult Adoptee Anthology, and Adoptionland: From Orphan to Activist. Lucy is currently developing several writing projects for stage and screen.
Deanna Doss Shrodes is a licensed minister with the Assemblies of God and has served as a pastor for 26 years, along with her pastor-husband, Larry. They have been married for 26 years, have three children and live in the Tampa Bay area where they co-pastor Celebration Church of Tampa. Deanna speaks at churches and conferences internationally and is also an accomplished musician, worship leader, songwriter, and certified coach. An award-winning writer, she is also a contributing author to Chocolate For a Woman's Courage, (Simon & Schuster), a contributing author to Lost Daughters: Writing Adoption from a Place of Empowerment and Peace (CQT Media and Publishing), and the author of the book Juggle:Manage Your Time, Change Your Life.
Deanna blogs at Adoptee Restoration and contributes at Lost Daughters and Adoption Voices Magazine. She leads a search and support group, Adoptee Restoration Tampa Bay and is passionate about providing a safe place for adoptees to heal, as well as expanding the Christian community's understanding of adoption.
Corie Skolnick was a marriage and family therapist in Los Angeles for more than twenty years, concurrently serving as an adjunct faculty member in the psychology departments of California State University, Northridge, and Moorpark College.
Her first novel, Orfan was selected by the prestigious Hugh C. Hyde Living Writers Series at San Diego State University (2012). Orfan was also a nominee for the 2012-2013 Freshman Common Reading Selection at California State University, Northridge.
Corie is a contributor to the anthology, Adoption Reunion in the Social Media Age, and a travel writer at the travel blog, Desto3.
America's Most Eligible, Corie's second novel, will be published in late 2014 by Mannequin Vanity Publishing/Mannequin Vanity Records (New York/San Diego).