Announcing: Adoption Reunion Conclusions
Exciting times … This is an official Call for Submissions for Adoption Reunion Conclusions (working title) to be published in ebook and paperback in mid-2013.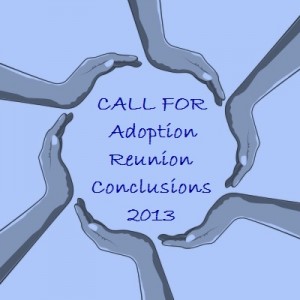 The anthology will be a "How-To-Reunite Guide" for teen and adult adoptees, and for those who love and support them. Here's a brief description:
Whether you are an adoptee who is about to search, are recently reunited, or have been navigating your extended family orchard for years, this is book is for you.

This anthology voices the experiences of adoptees, first mothers, adoptive parents, and those connected to the adoption experience. Adoption Reunion Conclusions will be an invaluable resource that sheds light on the emotional, psychological, yes, sometimes, logistical (holiday scheduling!) aspects of reunions.
Potential topics for submission
What are you passionate about when it comes to adoption? Here are some article ideas. If you have additional topics and want to run it by me before submitting, feel free to email me first …
The Baby Scoop Era – What is it? What is closed adoption, anyway?
Adoption stereotypes and dealing with curious friends and families
Closed adoption, access to birth records
How do open adoptions fit in? What happens when they close?
The search process
If my adopted child searches does this mean she hated her life, that I'm a bad mother?
The face-to-face reunion, genetic mirroring
After the "Honeymoon Period," moving into long-term reunion
International adoption, reuniting when we don't speak the same language
Managing expectations for first family and adoptee
Primary and secondary rejection
Names: birth mother, first mother, natural mother
Who's the real mother here?
What about birth fathers?
Extended family, adoptive and biological – how to tell them, when to meet them
Reunion breakdown, setting boundaries, reaching out again.
Must-reads, educational material for anyone involved
Insight for those who

don't

want to search, who

don't

want reunion
What can adoptees do to prepare themselves for reunion?
What can first mothers do to prepare themselves?
What can adoptive parents do to prepare themselves?
How can extended family and friends be supportive?
Details:
Writing Subject & Style: Please take the above topics into consideration, combine them, make them your own. Submissions can be informative or a personal narrative, or a combination. A truthful narrative with links at the end to additional reading material or educational information are ideal.
Previously published work is okay, as long as you hold the copyright to your work. Once your submission is pre-approved, I will send you a Welcome Packet and publishing agreement.
My main request (in addition to self-editing for typos and grammatical errors) is that you please tweak any pre-written article to fit the specific audience and themes of this anthology.
While including many voices, Adoption Reunion Conclusions will read like a multi-faceted narrative, covering the various issues related to adoption and family but having the cohesive theme being that it's a "How-to Guide."
Length: 2,500 – 5,000 words, preferably focused on one particular theme or aspect of adoption reunion listed above. Authors also have a short bio of 100 – 200 words, with links at the end.
Select poetry will also be accepted.
Audience: This book will be for a general reading audience, including late-teens and adults. Please keep R-rated language to a minimum and avoid acronyms and jargon. Explain terms, talk about how you're using them and why. Use endnotes to back-up your points if necessary. The purpose of this book is to educate, clarify and most-of-all, help those connected to adoption.
Time frame: The book will be published in ebook and paperback form in mid-2013. As contributors, you will be notified of publication dates, free ebook download days, and other marketing events. You may participate as much or as little as you want in the marketing of the book.
Please share this call for submissions with anyone you feel would make a great contribution.
Email articles to laura @ adoptedrealitymemoir.com
Image from freedigitalphotos.net