The In-Between Expat on the Road Less Traveled
What, you may wonder is a rebel expat and proud American citizen? Currently, it refers to the in-between state I've found myself relishing recently.  And, I am praying to a god I don't believe in that no Albanians start reading my blog. Maybe I can hire some thugs, ahem security, for protection. Kidding. Not really.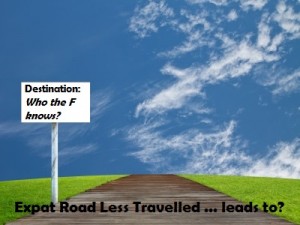 Now that I've stopped living in denial and have fully embraced in my life here Serbia, I find myself thinking differently.
It's not merely acclimating, it's more than that. I look at things more and more like a local.
Here's a sample conversation from last week that occurred in Serbian, but I will dutifully translate (because I'm such a great Serbian speaker, not really). It happened outside my building as I was carrying a few groceries I'd purchased at the prodavnica [local teeny-tiny convenience store with great fresh white bread delivered hot every morning at 8:30 and again at 10:30] …
Random woman — Is there a menjačnica [money exchange] nearby?
Laura – Just go straight towards that sign for Greennet coffee, turn left.
Random woman — I went there already, but it's closed–even though it's "working hours" right now. Do you know of another menjačnica?
Laura — I see. Actually, I just saw the woman from that menjačnica over at the prodavnica buying cigarettes. I'm sure she'll return in five minutes.
Hi. <<waves>> It's me, "clueless American expat mommy," now advising strangers what's up in my blok. I went on home singing "These are the people in my neighborhood."
In-between American and Serbian
So, yes, I'm adjusting. I'm viewing things from a native perspective. Now, when a man comes over to our home, I'm genuinely surprised if he doesn't want a shot of moonshine rakija. Even if it is only 11 am, what Balkan man says "no" to rakija? 
A large shop recently opened on the ground floor of my apartment building. And by large shop, I really mean a Chinese market. When I say Chinese market, I don't mean supermarket and I'm not being racist; everyone here knows what I mean. It's a store–large by Serbian standards, owned by Chinese businessmen. Who do not mix with "locals." Including me, apparently.
I go there maybe two times a month to pick up little toys, make-up, or cheap t-shirts. The prices are unbelievably low. Probably because they issue no paper receipt. Literally. I'm talking totally off the books. Granted, the toys break in one afternoon, the make-up is trashed by my daughter two days, and t-shirt decals last about three washings. But spending approximately 1 Euro per child for a "treasure" makes my kids' day.
I naively thought I could bond with a fellow foreigner. Ha! I've tried speaking to the Chinese shopkeepers in English. Glazed expressions.
I've tried speaking in Serbian, and I can tell they understand me. I try to be nice, smile. I speak s-l-o-w-l-y in Serbian to them. And they just nod, make a face, and walk away. And here's the "Serbian" in me. Here's how I'm acclimating. I. want. to. know. Why can't you at least say prijatno to me after I've said it to you? (Prijatno is like "bon appetit, but can also be used as a nice way of saying goodbye. You always say it to someone as you exit the elevator you just shared, it's common courtesy. Prijatno is a Balkan Mahalo.)
You can't be too nice here, though, you have to show your muscle, lest you be walked all over. I learned this after a nasty bout with the Serbian version of mean girls. Show. no. weakness.
I think of myself as a rebel in more than one sense. The more I acclimate to Serbian life, I'm rebelling against the American consumerism, holiday-over-celebrating, Pintrest-perfect-wife-cooking lifestyle. What am I saying? I was never a domestic goddess, "from scratch" was in my vocabulary only as a way to reach an itch.
On the other hand, the more I rebel against Serb smoking, graffiti and the like … the more my friends laugh with me. Yes, with me. Being rebellious here makes me not so much of a rebel, but more like a Serb. And, I'm okay with that. I'm getting my inat on.
But I still won't start smoking.
*  *  *  *  *
Extra, extra! Read all about it! … The new and improved 2nd edition of Adopted Reality, A Memoir is available FREE on Story Cartel, in exchange for posting an honest review on Amazon. Click here to download your free copy today, and to see the exciting new cover. The ebook version is compatible for all ereaders, including iPAD and Kindle.
images from freedigitalphotos.net, Stoonn.