When Catholic Guilt and Motherhood Guilt Collide
I am a product of Catholic guilt.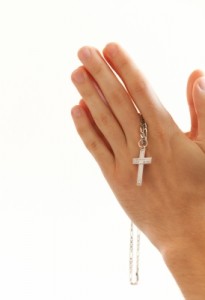 I don't even know if this is a real thing, but my sixth grade catechism teacher instructed us on the ten-or-so moral levels of the conscious mind. From behaving properly to avoid punishment … all the way up to the "best" morality: doing the right thing when there is no potential for reward, or in fact the potential is for punishment.
Aaaaand that's when we heard about Christians being fed to the lions.
This morality thing played out for me in a variety of ways.
I knew there was always the potential to go to hell. But I also knew there was that good 'ol loop-hole that you could ask for forgiveness just before you died; thereby assuring salvation. At the same time, there might not be time for absolution in the case of, let's say … a freak accident or car crash, insert-catastrophic-life-ending-trauma here.
Be Good for Goodness Sake
So, Santa's maxim seemed reasonable enough.
And if we did sin or upset God or … heaven forbid, disobey our parents? We should feel bad about it. Very bad.
This "bad feeling" was the origin of my Catholic Guilt with capital "G."
The solution was: We should feel bad about it and repent.
Oh man, I was so scared of Confession. What in the world might the priest require me to do to absolve myself of my sins? I cannot tell you what relief I felt to learn it was only reciting twenty Hail Mary's in front of the altar. (Seriously guys? Why 20? Why not 100? What does 20 teach me? I don't get it.)
Even though I've since recovered from being a Catholic, the sense of guilt lingers. It's woven deep into my psyche.
Which brings me to Motherhood Guilt
From the moment we realize we're pregnant, we're inundated with advice as to what is best for the baby … for our unborn child to be healthy, to be smart, to be successful. And none of that really bothered me so much, at least while my kids were in babyhood. Infants need to be cared for and loved. They need to be fed, clothed and cleaned, to be warm enough (but not too warm!).
There was a learning curve, but all of this was fairly straightforward. I had guilt, yes, but I had no idea where I was headed!
These days, my daughter is five going on seventeen. We can talk discuss the differences between faith and science, and how it's fun to believe in things that aren't real (like Tinkerbell and something called god). But then, ohhhh, but then.
We recently entered a phase in which D gets mad and says things like, "I don't love you," "I'm not your girl," and my personal emotional trigger favorite, "You're not my mommy anymore."
"Behind every great kid is a mom who's pretty sure she's screwing it up."*
This is when my guilt kicks in. It's a multi-leveled, indiscriminate guilt that I can't untangle.
It's like, I feel guilty for not having known what would set her off. I feel guilty for not knowing the best combination of discipline that will teach her how to be a good human, and love that will calm her down and let her feel reassured.
I feel guilty for not having the time or patience to drop what I'm doing to ameliorate the situation. … Which includes not having to break up the sibling fight that caused the dramatic outburst … directly after having stepped out of the shower with a towel wrapped around me. Haven't I earned the privilege of dressing myself first?
Ummmm, my children would scream say, "No."
I make it to half-way dressed before having a long discussion about proper tone-of-voice when speaking to your mommy (i.e. not screaming), consequences for bad behavior. All the while I hold my daughter securely and caress her spine.
Geez, how I sometimes long for the days when I "just" had to nurse her and change her diaper.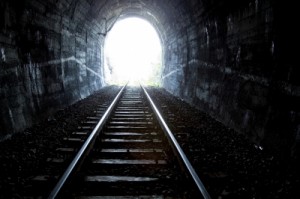 Light at the end of the tunnel
But then, a few weeks later, while we are walking to school, D says, "Momma, sometimes I say I don't love you, but that's just when I'm mad. I really do love you. And I know I'll always be your girl and you'll always be my momma."
*  *  *  *  *
* This was in my Facebook feed this morning, couldn't figure out the author though.
images from freedigitalphotos.net