The Ugly Duckling–Yep, it's an adoption story
Talking to my five-year-old about adoption (read about it in Reclaiming my Adoption Narrative), reminded me of the 1843 Hans Christian Andersen tale, The Ugly Duckling.
I never really liked the story as a child, mostly because so many animals were down-right mean to that cute little "duckling"!
The truth is that unfortunately, many adoptees feel like outsiders, pretending to fit in not only with their family, but peers as well.
For me, without genetic mirroring, I had little idea who I was. It played itself upon my body, literally: I had no notion as to whether I was naturally thin, or if I needed to starve myself to avoid obesity. I was so confounded about my self-identity, I hardly knew which way was up. I tried on various "selves" just to see if they fit. Including several '90s grunge-inspired fashion mistakes.
The Ugly Duckling is an apt tale for young adoptees, and adoptive parents who are tasked with raising swans in their duck household. The key is for adults to present the themes in a light that welcomes open, honest discussion.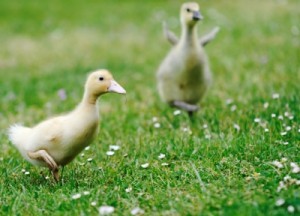 The Ugly Duckling discovering his true self
The story tells of a homely little bird born in a duckling nest. It's clear from the very beginning that this duckling is not like all the other ducklings. The ugly duckling suffers abuse from others until he finally heads off on his own, feeling that he will never belong anywhere.
Just when he believes all is lost, he notices a flock of the most beautiful birds he has ever seen. Overcoming his now intense fear of rejection, he steals himself just to be able to spend one moment in their presence. He swims over with trepidation and much to his surprise … is welcomed with open wing.
When he happens to look down into the pond, and sees his own reflection and realizes: I am not an ugly duckling.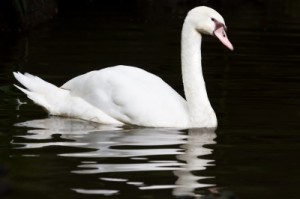 Much to his utter delight, he realizes not only is he an elegant swan–the most beautiful bird of all, but he has his own kind who accept him as he is.
Deeper meanings
Just as I was researching this story, I started to wonder if maybe, just maybe, H.C. Anderson was … a bastard of some kind. Adopted or illegitimate or some such "tawdry" past. Hello? A story of a bird being raised by strangers, only to find his flock? Yep: that's an adoption story right there for ya.
It turns out that literary critics and historians have suggested that Andersen was the illegitimate son of prince Christian Frederik. … Who later became a King Christian VIII of Denmark! Geez, that's Ghost Kingdom fantasy right there … wondering your whole life if your birth family is from royalty.
Believe it or not, it does happen. Just take adoptee memoirist Rhonda Noonan, who discovered she's the biological granddaughter of Sir Winston Churchill. Read more in How Adoption Created an American Churchill.
Some critics have theorized that H.C. discovered his biological status prior to The Ugly Duckling. The swan represents not just inner beauty and talent, but also for secret royal lineage. According to an LA Times article, H.C. was given to a housekeeper, but his education and early adult life was paid for through royal Danish receipts. Sketchy!
Guess who was re-writing his own adoption narrative? Yep … Hans Christian Anderson.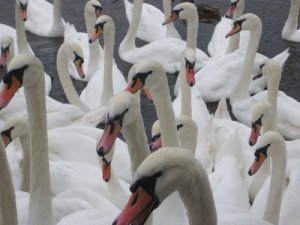 The Ugly Duckling is the story of not-knowing, of not fitting in. And it's a tale of redemption.
Not all of us come from secret royal lineage, but you my dear adoptees, you are swans.
You were raised by strange ducks, but you were always a swan. In the case of real-life adoptees who are never accepted by their birth families as the beautiful, valued people they truly are … take care! There are other adoptees–fellow swans, who are here to stand by your side.
*  *  *  *  *
duckling by dan, "White Swan" by Nutdanai Apikhomboonwaroot , "Regatta Of Swans" by Matt Banks all from freedigitalphotos.net