Memoir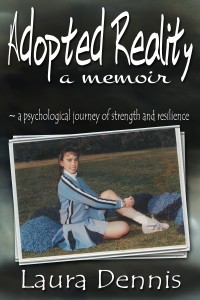 Description: Caught in a paranoid delusion that she's a bionic spy responsible for 9/11, adoptee Laura Dennis must fight her perfectionist, self-destructive tendencies to regain her sanity.
Click here to purchase Adopted Reality from Amazon. 
*  *  *  *  *
What people are saying about Adopted Reality, A Memoir
With raw honesty and thoughtful reflection, Laura Dennis crafts a stunning psychological thriller in her true-life memoir, Adopted Reality. She weaves in three major life events–adoption, reunion with her birth mother and a bipolar episode following the 9/11 terror attacks where her beloved Uncle Tom died in the Twin Towers and she believes she was responsible for his death. I was hooked from the first sentence, "I've successfully infiltrated the Illuminati's West Coast Cell."
- Kathy Pooler, A Memoir Writer's Journey
Author Laura Dennis' memoir Adopted Reality tells the story of how expectations of personal perfection inevitably lead to sorrow and failure. It's a universal story of our flawed humanness. … Anyone who is adopted, a dancer or bipolar and anyone who knows and loves such a person will appreciate "Adopted Reality: A Memoir" for its honesty, drama and ultimately the peace Dennis finds with her adopted reality. – Monica Lee, The Percussionist's Wife
The author adds a sense of ongoing drama by often ending chapters with a single, searing line that hints at what's to come: "And then, whether or not I truly am, convince a judge that I'm sane." – Kirkus Reviews
*  *  *  *  *
Read more about my memoir-writing journey:
Online Reviews of Adopted Reality, A Memoir
Coming up … (links will be updated)
Friday, May 10 — Author interview and Premise of Adopted Reality with Belinda Nicoll's The Rite of Passage
Radio Interviews
"Adoption Discussions"
Donna Montalbano hosts the popular weekly radio show, Adoption Discussions on Woonsocket Radio 1240, Rhode Island. During this 25-minute interview, Donna and I talk about being the "perfect little ballerina," adoption adovcacy, Adopted Reality, and the (non)catharsis of memoir-writing.
[cincopa A8AABALi_8pa]