Knowledge about My Adoption—NaBloPoMo Day 16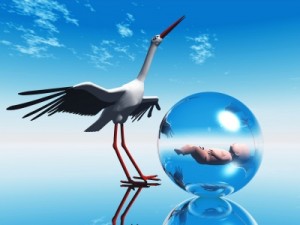 Some adoptive parents share more than others for various reasons. How much of your adoptive parents' story was shared with you? If they shared details about your adoption, how did that make you feel? —NaBloPoMo Lost Daughters Day 16 Prompt
I've always known I was adopted. And I've always known that my brother was adopted, but from a different (birth) family. This information was part of my "childhood adoption narrative."
So when the father of one of my kids' friends recently asked: Why the hell did they tell you that you were adopted? Why would your parents trouble you with such information? Imagine growing up with that type of burden!
Whoa there! … I was taken aback.
I've heard a lot of confused responses to my adoption story, especially here in Serbia, where adoption by strangers is kind of a weird concept. Nevertheless, this was a new one.
Wanting to keep up appearances that I'm the open-minded expat American (ha!), I considered his point. I'd never thought of the knowledge as a burden, per say. In a way he was right, it was a burden to know what someone had given me away.
But what would have been the alternative? My parents pretend I was their biological child? Tell me some made-up story about miracles and magical storks to accompany Santa Claus and the Easter Bunny? I quickly got my head straight and said, "Well, I think I would have figured it out."
"How? You were just a child."
"I was nearly five and accompanied my parents to pick-up my brother from the adoption agency. I got to hold him before they did. Besides, I think it was better than having it be a big secret."
The friend reluctantly admitted I would have figured it out, but remained convinced of the burden of knowing.
Why adoption in the first place?
Let's be clear. Adoption is generally not a couples' first choice for creating a family. Without going into too many gory details, it wasn't my parents' either. Having a baby by "natural means" was not in the cards. A church lady might say it wasn't part of "God's plan." Enough said.
Nonetheless, my mom and dad made it clear that without us, they felt less-than-whole. Adoption was the answer; my brother and I completed their family.
Talking about adoption
When Jami arrived, I was the age that my daughter is now.
If I were to tell Danica that we were going to have a baby join our family via adoption, she would be excited, hands down. But she would have a 100-&-1 questions for me.
Is the baby inside of you? I can tell, there's no baby in there. Then, how? How are we going to get this baby? … Someone else has our baby in her uterus? Wow. So the baby is going to have two mommies … That's just like you, right?
[Yes, she knows the word uterus, thanks to the detailed and accurate anatomy books with which my child is obsessed. We had to clarify that babies don't get made in one's stomach, whose purpose is to digest food, not babies. Obviously.]
Suffice-it-to-say, there would be no pulling-of-wool-over-young-eyes. I'm sure her next question would be, Why can't we meet this other mommy? Why wouldn't the baby also live with the other mommy? Why, why, why?
So far, I have told Danica that I have two mommies, and whose belly I was inside. That was an important distinction for her, and it satisfied her curiosity for now. I haven't gone much farther than that, but I will as she grows up.
Postscript to the narrative
Having my 6-week old brother join our family was one of the proudest moments of my little childhood life.
Years later, my parents were mad at my brother for some high school infraction. I'd known about it, but hadn't told them.
They asked if I knew, and I said "yes." When I apologized for not coming clean, my dad said, "Laura, he's your brother. There's no messing with that. I don't expect you to tell me something bad that he did. You're blood."
Yes, yes, I know, that's exactly the point; we're adopted, we're not blood.
But in that moment, I truly felt my father had a rare moment of familial clarity. He was right: Jami is my brother, and I would never, ever betray him. Nor should I be expected to do so.
With that, another element was added to my adoption narrative: I would never have had my brother BE my brother at all … if it hadn't been for adoption.
And he is my brother, no questions asked.
stork image from freedigitalphotos.net