International Adoption from Serbia–Good News for Adoptees
I knew adoption was uncommon in Serbia,  but I had no idea how uncommon.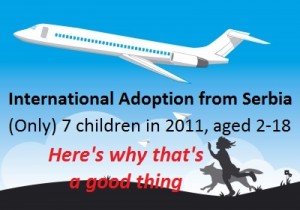 The puritanical perception of the "sin" of unprotected sex and the resulting stigma of an unplanned pregnancy … Weeellll, that's not really a "thing" here, as far as I've observed. There's plenty of stuff to be ashamed of; giving birth to a healthy baby is not one of them. Truly, children are cherished in Serbia.
Adoption Policies: What Serbia is Doing Right
By the numbers. The U.S. adopted children from Serbia:
7 (only seven!)–in 2011
12–in 2010
4–in 2009
In 2010 and 2011, Serbia issued international adoptions to the U.S. only, no other country.
Serbia places great emphasis on domestic adoption, requiring children to be available for domestic adoption for one year, before being adopted internationally. Basically: No infants can be adopted internationally, only children aged two-eighteen.
Currently, there are about 500 families waiting to adopt infants domestically. Why is this a good thing? Domestic adoption helps to keep intact a child's language, ethnicity, and connection to his first family and culture.
In practice, Serbia only allows children with special needs–physical or mental–to be adopted internationally.
What about money?! How much does adoption cost in Serbia?
More good news: Serbia has drastically limited the ability for people to profit from adoption.
There are no Serbian government fees for adoption and all paperwork is completed by the Center of Social Work. (No comment on my experience with the snail-like, convoluted nature of Serbian bureaucracy in general.)
It costs approx. $25 for the issuance of the child's Serbian passport.
There are no adoption agencies in Serbia. The government is trying to crack down on bribery which is, honestly, alive-and-well in other institutions.
Fees do add up though, for travel expenses and document translation. A U.S. Visa and U.S. Passport for the child can cost several hundreds of dollars, but that's on the American side, not Serbian.
Protection of Child Privacy
During the adoption process, the identity of the child is kept secret. Photo listings online of children is illegal. Upon adoption, the new parents are provided with complete social and medical histories of the child, along with the real names of the biological parents.
Super-interesting note directly from the U.S. State Department on Serbia adoption:
Caution: Prospective adoptive parents should be aware that not all children in orphanages or children's homes are adoptable. In many countries, birth parents place their child(ren) temporarily in an orphanage or children's home due to financial or other hardship, with the intention of returning for the child when they are able to do so. In such cases, the birth parent(s) rarely would have relinquished their parental rights or consented to their child(ren)'s adoption.
Additional guidelines (which may or may not be so great)
Marriage: Parents must be married (common law is accepted). Single parents can receive special permission. No comment.
Parents' age: At least 18, but no more than, 45 years older than the child. Not to old; not too young, that's good. Parents who have been diagnosed with mental illness or an infectious disease are disqualified. Okay, not crazy, not infectious; plusses for a kid getting new parents.
Same sex couples are not permitted. I'm not sure why, but I can take a wild guess as to why, based on the general Balkan homophobic outlook.
Caveats … Oh Laura, enough with those pesky caveats
I just know I am going to get "slammed" in the comments section if I don't make these notes about "concerns for another day" …
What about the Roma (gypsies), and their negative perception in Serbia? Are they adoptable, or classified as disabled in some way?
What about the dire state of orphanages?
How do you know

just how

mentally or physically disabled a child is?
What about the fact that Serbia is not a Hague country when it comes to adoption? (This is partly because of the sorry state of those orphanages. They're working on it, but Serbia is still a poor country. Yes folks, it's yet another post for another day.)
If you want to read further:
Image from freedigitialphotos.net