The Intersection of Ethical Adoption and PTSD
Is it possible to adopt ethically?
Does adoption automatically equal PTSD?
These two questions might seem strange to have in the same post … The first more applies to potential adoptive parents and agencies, whereas it's only adult adoptees who are complaining about PTSD, right?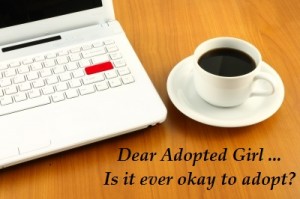 But as usual, it's complicated.
I've had some readers asking me my opinion (!) as to whether they should adopt.  In coming up with my explanation, I realized I need to bring together the decision to adopt … with the issue of adoptee PTSD.
If you're short on time, here's the Executive Adoptee Summary:
Is it possible to adopt ethically? Yes.
Does adoption = PTSD. No.
If you do adopt ethically, it does reduce the possibility of the adoptee developing PTSD.
Whoooaaa … before anyone goes getting their panties in a bunch, remember that was the summary. There's a lot more to it than that!
And yep, today, I'm gonna go there.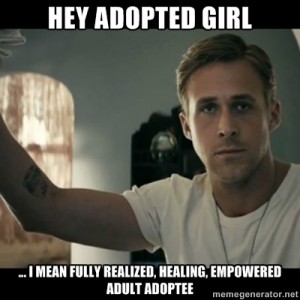 Here's an anonymized compilation of reader questions:
*  *  *  *  *
Hey Adopted Girl …
Dear Laura,
I'm reaching out to ask your opinion about something as an adoptee. My husband and I are thinking about starting a family. However, due to some health struggles and potential fertility issues, I'm not sure it's in the cards for me.
My husband and I have discussed adoption as a viable option for us to start a family. We have seen it as a positive way to provide for a child or children who may need it. But after reading about your experiences, I'm wondering, as an adoptee, do you feel it is an unhealthy or inhumane road to take in starting a family?
As we consider an option I would never want to do anything to any person or family that would be sure to cause pain or anguish. How do you wish things were handled differently for you?
My husband says
Well, if we didn't adopt that child, wouldn't somebody else?

Why don't you think we could do a good job of helping them with those issues?
As in, if we educate ourselves about the trauma, grief and loss adoptees experience, couldn't we provide a loving home for someone who needs it?
I'm wondering, do you foresee or imagine an existing–or maybe yet-to-be-developed model of adoption that does allow for an adoptive family to raise the baby from infancy, but is ethical and compassionate to the birth family/ mother?
Personal questions, for sure, so I understand if you don't want to answer. But I want to consider all points of view before we begin our family. Again, as a person who has lived the life, you bring a unique perspective and any family we raise we want to consider the children's well-being first.
Best,
Women who are wondering
*  *  *  *  *
Dear Women-considering-adoption …
I really appreciate how you've taken a moment to stop and think about what it means to potentially adopt, and take into consideration an adult adoptee! That very step shows already a level of compassion and willingness to learn that is lacking among many adoptive parents.
My first response is: Starting a family is an extremely personal question, and who am I the bat shit crazy adopted girl to give advice?
But jokes aside, there's no easy answer to the question: Should we adopt?
If I say "yes," then it's not a carte blanche to just go ahead and adopt without consideration to doing so ethically and keeping in mind the additional (different?) challenges that accompany adopting a child, as opposed to raising a non-adopted one. And believe me, my non-adopted kids are a challenge every damn day.
If I say "no," then it's as if I'm saying that adoption should be outlawed. There are those in the adoption community who are anti-adoption, and pretty much feel that adoption = child trafficking, and should therefore be illegal.
Adoption needs to remain a legal, but regulated, choice.
Read here for some thoughts about how to adopt ethically in last week's Adoption Manifesto.
The connection between adoption and PTSD
This begs the question … If I adopt ethically that means my kid won't get PTSD, right? They won't be damaged?
Riiiight … Well, my answer is: Not necessarily.
Adoption does involve a loss, it does involve grief. But it can also involve joy and fulfillment, and it can give a family to a kid who wasn't wanted by everyone in her birth family.
The thing is, if you think that adoption directly causes PTSD, because adoption is always a trauma, then yes, it's hard to give any advice as to how to adopt ethically and for "the right reasons."
There are different schools of thought about this, and I've been trying to figure out how to address this question without getting my head bit off in the comments section.
There are those who think that adoption is equal to child trafficking and should be outlawed.
There are adoptees who believe adoption is only a trauma, one that always causes PTSD. It only involves loss and grief. They would have literally rather been aborted than adopted. (Yes, I've read this on online adoptee forums.)
There are first moms who were coerced–not okay. On the other hand, there are some first moms who believe anything but giving moms help to keep their child is … coercion. I wouldn't go that far. There does exist cases in which women who, given all the support in the world, would still choose adoption. The exception but not the rule? Possibly, but they're out there.
But does adoption cause PTSD? No, I don't think the correlation is that direct.
I don't like this linear thinking for something as complex as adoption and its effect on the human psyche. Not all adoptees are damaged goods. Adoption doesn't make you mentally ill. Adoption does involve a trauma. It's not for nothing that adoptees so deeply identify with the notion of The Primal Wound.
Just as not all trauma survivors get PTSD, not all adoptees develop PTSD.
Unaddressed post-adoption issues can lead to denial, repression, fear of rejection, and unhealthy love relationships.
The human mind has amazing survival strategies for dealing with anxiety, stress and grief.
Adoptees are no different–we develop resilience and adaptability in order to survive. And it's true, some coping strategies are rather benign. Many adoptees call themselves control freaks, but they can keep it in check. For me, I hate surprise parties being thrown for me–makes me feel out-of-control. It's different for everyone.
But some survival skill become (unhealthy) coping mechanisms. I'm talking eating issues, sleeping issues, alcohol and drug abuse, staying in abusive relationships because of fear of rejection. _____ [Insert your own unhealthy coping mechanism/post-adoption issue here.]
When these coping mechanisms manifest as physical symptoms that go untreated … it can all lead to PTSD.
So how to reconcile all of this psychobabble when considering adoption?
From a social justice-reproductive justice standpoint, you have a right to create a family as you so choose.
But I get it, if you can't get pregnant, then what? Adoption is an option, and educating yourself that when you adopt, the child now has you and your family in addition to his original family is imperative. (How that plays out in terms of an enforceable open adoption–that's a topic for another day.)
So, I say: It's okay to adopt …
But only with an open mind, understanding that adoption as it is practiced today is a very flawed institution. Anyone entering these murky waters must educate themselves to adopt ethically–for all involved, first families, adoptive parents, and most importantly adoptees.
And no, your kid won't automatically get PTSD from the experience.
*  *  *  *  *
"Break Time From Working On Wooden Table" by Keerati from freedigitalphotos.net