Cigarette Smoking and Stomach Colds—Serbian Mentality Part 4
Any "Serbian Mentality" mini-series would be incomplete without mentioning smoking.
Last Monday, I wrote about the positive side of inat, a coping mechanism of stubborn-mindedness. Defiance for defiance sake. However, the penchant for lighting up may highlight a negative side of inat.
Why, Laura, whatever do you mean?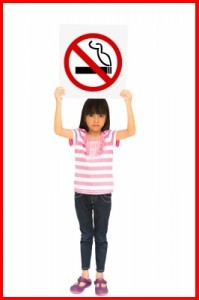 Stubbornness and Smoking
Of course not everyone here smokes, but sometimes it sure does feel like it.
In case you haven't already guessed, I really dislike cigarette smoke, which still pervades many indoor spaces. Even if I sit in the non-smoking section of my local café, my hair, my clothes (right down to my bra) reek of ashtray.
There seems to be little in the way of public education with regards to the hazards of smoking. Yes, yes, cigarette packages are covered with dire warnings, but people question whether second-hand smoke is actually damaging.
Pregnant women chain-smoking in public? In the US, they'd be subject to serious public contempt. I'm not even gonna go there, I'll just get too riled up. … Hell, when I was pregnant, the Starbucks guy scolded me for the caffeine in my Frappachino. He merely rolled his eyes when I told him my MD said up to 60 mg/day was okay.
Kobajagi (Pretend) Non-Smoking Sections
Remember back in the 1980s and 1990s before smoking was completely banned in the US?
I recollect many tense hamburger dinners in which my parents—both avid non-smokers once my dad quit when I was five—loudly complaining to the Burger King manager
This partition which supposedly divides the smoking from the non-smoking section is a small, useless plastic board. There is a smoker sitting less than a foot away from us.

Smoke rises!
My parents went on to imply that Mr. Paid-just-slightly-more-than-minimum-wage-manager was personally causing children to be exposed to second-hand smoke. Shame on him.
Yep, we were "those people."
Kobajagi means pretend or make-believe, and "kobajagi non-smoking sections" in Serbia are the Burger Kings of my generation.
Anniversary of the "Smoking Ban"
This November, the partial "smoking ban" will have been in effect for a year. I use quotes because the law has all sorts of loopholes that allow restaurant owners to have smoking sections if the kafana is smaller than a certain square footage. The result? A large restaurant is magically divided into several smaller ones, thereby circumventing the rule and allowing smoking everywhere.
Don't even get me started on non-enforcement.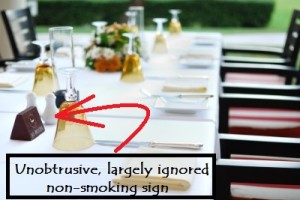 I admit, I'm "that uppity American mom."
Much to the confusion of my dinner companions, I have (more than once) scooped up my children and removed us from restaurants when all of a sudden someone starts smoking. At our table.
Here's the kicker: Inevitably, those who smoke around their kids here are the same ones who scold me for such major infractions as letting my kids run around barefoot indoors. The belief being: going barefoot—even inside a (heated) apartment—can cause a cold, or a stomach cold. Wondering what a stomach cold is? Me too. But it's definitely a thing here.
Barefoot walking is also feared to cause pneumonia, kidney problems, and possible infertility (for girls). The fears apply to sitting "directly" on concrete (even if you're wearing clothes). I'm not kidding.
I get it, perhaps running around barefoot lowers a child's body temperature, making her more susceptible to germs. But: Germs. Cause. Sickness. Barefoot-ness does not.
What gets my goat is that I'm a real germ-o-phobe. Also, I don't like being told what to do, especially when it comes to my children. I would never give unsolicited advice to another parent about their child. That's right … not even to a smoking pregnant lady.
[Whew, stepping down off my soapbox.]
Old-School Mentality?
Really, is this all part of an old-school mentality, in which long-held beliefs trump new ideas, or even scientific studies?
I simply don't understand the mentality. Is it wanting to be social? Habit and addiction? Unwillingness to change? The notion that we all have to die from something?
I get personal choice. I do. But exposing children to second-hand and even third-hand smoke is bad, like cancer-causing-bad. Yes, people, third-hand smoke is a thing. Just google it.
*  *  *  *  *
If I haven't deeply offended you yet (there's still time!), please … type your email into the white box on the right. Then you can receive each-and-every super-duper blog post directly into your inbox!
Images courtesy of freedigitalphotos.org.