What Do Adoption Glasses Have To Do with Activism?
Heard around the Internet this week:
If I hear "primal wound therapy" one more time …
I am so sick of adoptee self-victimization …
Not everything is because of adoption …
I get it, I really do.
Here's the reality of fog-emergence:
Self-examination a vital part of the Adoption Fog Emergence Process.
Without it, it is difficult—possibly impossible, for anyone (not "just" adoptees, first parents and adoptive parents) to work for social justice.
In my case, if someone I trusted had approached me when I was languishing in self-doubt, lacking of strong self-identity, and living in self-hate, and said
Here are a pair of (metaphorical) adoption glasses.

You can put them on whenever you want, and they will allow you to examine your adoption experience with all of the accrued perspectives of those who have been there before. You'll have access to the studies and conclusions of mental health experts properly trained to help you move through complex trauma and grief.

You can put on and take off these adoption glasses, depending upon your own personal process. It's up to you to decide what's because of adoption, and what's not.

REMEMBER: These adoption glasses come fully equipped with everything BUT judgment. After all, you are not crazy! Your feelings and actions are perfectly within the range of normal for someone who was removed from her original family!
I had no metaphorical adoption glasses. I had a few self-help and spirituality books, I had my own reunion and I had several therapists who NEVER FREAKIN' MENTIONED my adoptee status in helping me reintegrate myself after a serious break with reality! Gah!
Official Launch Week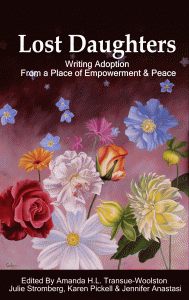 Today, writing, processing and reading the stories of others affected by adoption are an integral, indispensable part of the Adoption Fog Emergence Process (copyright pending. Just kidding.)
Lost Daughters: Writing Adoption From a Place of Empowerment and Peace is an anthology of contributions from the writers of The Lost Daughters blog. I'm so pleased have been a part, not only of the LD community, but of this amazing book. Buy it today on Amazon!
This week also marks the official release of Adoption Reunion in the Social Media Age, An Anthology—a bona fide pair of adoption glasses in the form of an e-book or paperback (coming soon!).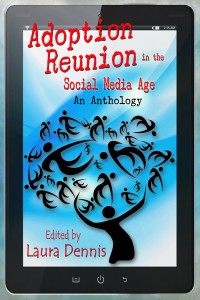 With this Official Launch Week, you'll see interviews the contributors conducted with each other, posted on their own blogs. These articles are further insight into adoption reunion, and are a testament that we are all still figuring this stuff out. The writers have processed their adoption experience to the point that they can share of themselves—personal, gut-wrenching yet joyous stories.
Keep track of the Blog Tour Schedule here.
Even so, we ourselves are still processing, but at the same time, we are activating.
Whether it's working for change within the system—access to original birth records, knowledge of medical history and ethnicity …
Or changing the hearts and minds of adoption-positive society …
Or advocating for a complete overhaul of adoption as an institution …
Or calling for an end to adoption entirely …
Or some combination thereof …
Emergence from the adoption fog is predicated upon emergence from our personal experiences.
There is so much pain, confusion, complexity in adoption. There are paradoxes. We exist neither here nor there, live in the in-between. We must integrate ourselves, begin the healing process, emerge from the adoption fog … before we can truly—and without quickly burning out in a toxic pile of exhaustion and emotional triggers—help others and advocate for change.
Together we're on this journey. Welcome.