Adoption Bloggers Interview Project – Monika & Laura
Whoa, what's that? I thought. The Adoption Bloggers Interview Project pairs up adoption bloggers for individual, personalized interviews. Very cool.
Interviewing a Birth Mom
I got to "meet" Monika, a birth mom who advocates for ethical open adoption. And I was excited … Until I realized that the only other birth mother I actually know is my own. Wow, I've lived a sheltered life!
So, I was a little daunted about interviewing her. What if I offend her? What if our views aren't the same? I approached our email communication delicately.
Here's the disclaimer I wrote to Monika:
Please, remember I'm writing from the perspective of an adult adoptee in reunion, with young children—about the same age as your daughter, who you call Mack, aged 3. My daughter, Danica is 4.5 and my son, Maksim is 2.5. So, if you feel uncomfortable with anything I've asked, please feel free to say so, or simply not to answer. Here goes!
[Today's post is a little longer than usual, so I hope you'll bear with Monika and I, it seems we have a lot to discuss.] You can also check out Monika's interview of me at her blog, Monika's Musings.
Laura: For me, just the simple act of writing and blogging about adoption is advocacy. As a birth mom participating in an open adoption—who blogs about it, do you consider yourself an adoption activist? Why or why not?
Though especially domestic adoption has made several big steps forward since the days of essentially legal baby stealing, I still believe adoption has a ways to go before coercion isn't nearly as rampant as it is now, and agencies aren't in it for the money involved.
I had someone say once that they thought I was pro-adoption. I wouldn't say that. However, I'm most definitely pro-ethical adoption. There's a huge difference. I don't think that just because adoption was a good choice for me and my daughter that it's going to be a good choice for every mom that finds herself without a support system.
Writing about Difficult Topics
Laura:
How do you deal with addressing
supposedly taboo subjects
? Can you pick one or two and talk about them?
Monika: My mom called me "Frank" as a nickname when I was little for a reason. I was not afraid to say what I thought about anything or anyone, whenever I felt like saying something. Though my filter has matured and I can access the filter more easily now, I still believe the only way to dispel the feelings surrounding taboo subjects is to discuss them, and frankly.
The biggest "taboo" subject that has actually come up recently is the supposed "fact" that birth moms aren't supposed to grieve for our loss despite our having chosen relinquishment. Some people apparently don't think that we have a "right" to grieve because our children are thriving and not angels as they would be if we'd lost them during pregnancy or shortly afterward.
I stand by my opinion that the losses are similar in some ways, and trying to make our grief a loss competition is not a productive way to move forward through that grief. Grief of any type shouldn't be a taboo subject, nor does denial of that grief make it go away.
I think society in general likes to ignore the grief that we birth moms feel continuously because they want to concentrate on the happy parts of adoption. Being at peace with the decision that you made doesn't mean that grief disappears either. I know that from experience because I'm at peace with my decision and still grieve the loss of my daughter.
Why Open Adoption?
Laura: This is a more personal question, asked from the adoptee perspective. I think a lot of adoptees think a lot about "what if." What if I'd been raised by my biological family? What if I hadn't been given away? What would my life had been like?
This is not meant as judgment, just curiosity. What made you chose adoption, specifically open adoption, as opposed to keeping Mack, or asking someone within your family to take care of your baby?
Monika: Since I didn't find out about my pregnancy with Mack until she was born, I didn't have a long time to make my decision. However, having been a nanny for many years and knowing the commitment that goes into raising children, I knew I wasn't prepared to provide the life I wanted for my daughter. I wanted to give her stability.
I also had NO desire to have a family member raise her. My sister actually offered. Though I love my sister and respect the way she parents her daughters, I knew that there was no way I could be "auntie" to my daughter. It's hard to explain. Family placements are EXTREMELY difficult. I know this from the research I've done since and the fact that I've met two birth moms that placed with family members.
The roles in each family change drastically and frankly I wanted to keep the roles in my family the same as they were already.
There are enough issues in my family without adding in the fact that I placed my daughter with a family member. I do feel Mack's adoptive parents are a part of my family now, but it's rather like marrying into a family and actually liking your in-laws. They're the family I chose.
Open Adoption, like repeatedly removing a band-aid off an old wound …
Laura: In one of your posts, you compare living with open adoption like constantly taking the band-aid off a wound, and poking it. I feel raw just from reading your blog! Even though your daughter is turning three this month, the loss still feels new, open, at least that's how it comes through to me in your writing.
I think I'm a little sensitive, because as a mom of young children, I can't imagine developing such a relationship with them—giving them to someone else to raise. But then again, I am adopted and I do have attachment issues!
Monika: Ultimately though open adoption does have benefits for both sets of families (birth and adoptive), it's the best situation for the adoptee. It hurts to see my daughter being raised by someone else even though I chose them and they're wonderful people.
Since I didn't know I was pregnant until my daughter was born, I didn't think that I had bonded with her in the same way that someone who finds out she's pregnant much earlier does. I was wrong. I feel her loss deeply and when I feel her loss most acutely, I feel it in my womb.
It's interesting how attachment works! It can be a gift and a curse all at once. I wouldn't trade the attachment I feel to Mack for anything in the world, even when it's physically killing me.
(Interesting that you said "I am adopted…" Most of the people I know in the "adoption world" like to say "…was adopted" because they don't like the implications of using present tense for a "past, one-time event.")
Laura: (I'll jump in here …) Yes, I say I am adopted, because adoption is not a one-time event, the beautiful moment "Gotcha Day!" when the adoptive parents hold their new baby, and the slate is magically wiped clean.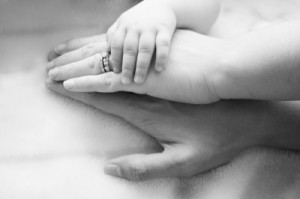 Even in infanthood, there was 1. the day I was born and taken away from my birth mother, 2. the three weeks I spent in foster care, 3. the day I was given to my adoptive family, 4. there was the day my adoption was legally finalized. … Then there were the years I spent wondering what my birth mom looked like, who she was. The reunion. The "family creation" that comes with blending adoptive members and biological ones. I could go on, and on …
Back to the interview …
Regarding your open adoption … It feels as if over time, both Mack's adoptive parents and you have relaxed a bit more into your roles. Would you say the adoption has "opened up," with you sharing more personal information, or is it remaining pretty steady?
Monika: Interesting that you bring that up.
I definitely feel that as our relationship has developed we've relaxed more into our roles. Though I knew T & C were a great choice the instant I met them, I still felt in the first couple of visits like they were strangers taking care of my baby as their own. That's not saying that I didn't think of them as her parents. I just felt like they were strangers.
I do think the lack of personal information about each other attributed to the feeling of being strangers. Nick and I still don't know their last name, have their physical address or phone numbers, though I'm fairly certain that they just don't want to deal with the drama T's mom would cause (since she's still uncomfortable with the idea of an open adoption and she lives in the same neighborhood as they do).
If T & C didn't trust us, they wouldn't keep meeting us and talking to us. I think it helped open the relationship a lot when T & I started talking via email. We haven't actually sent "updates" to each other via snail mail (through the agency) in almost a year now.
Discussing Adoption as the Child Grows
Laura: You share that open adoptions are a delicate relationship. I love this idea of a "yearly" letter that you write to your daughter. How do you plan to explain to Mack your decision, especially as she grows older?
Monika: I've thought a lot about this. I hope that our relationship with Mack and her parents continues so that I can discuss this in person as she has questions. The yearly letters for me right now are yet another reminder to Mack that Nick and I love her, though I did tell her in my first letter to her some of the basic reasons why I chose the way I did.
I hope to let her lead the questions, and I will be as honest and open as possible. Since there are no issues of abuse that required her to be removed from my custody, there shouldn't be any need to filter my answers for age-appropriateness. I'll probably keep it brief at first. This will allow her to process the information as she asks and give her control to get the information I know she'll want to have at her own speed.
*  *  *  *  *
black and white image from freedigitalphotos.net